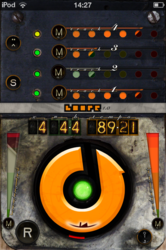 Finally a pocketable looper always ready for me to compose, rehearse, or just capture that interesting soundscape. A responsive instrument in phase with my other less pocketable ones, readily stimulating my creativity. Z
Geneva, Switzerland (PRWEB) December 07, 2012
The independent Loopr development team released the first update (v 1.0.1) to its low latency pro focused live-looping app for iOS. This version brings new features as well as many tweaks and user interface (UI) refinements.
"Loopr Live Loop Composer" is a multi-layered audio looper that offers the professional or aspiring musician an efficient handsfree or one-handed tool to compose and rehearse using live musical loops. It combines a multi-track audio recorder with MIDI compatibility for tempo synchronization and pedalboard control, enabling better integration into a pre-existing studio or live setup. While many hardware or software instruments offer similar functions, thanks to its long-time live-looping team of musician, "Loopr" concentrates its iOS development on ergonomics and simplicity, trying to refine essentials while avoiding unnecessary sophistication.
In addition to the previously included 'manual' and 'fast' recording modes, this "Loopr" update offers a new 'one shot' mode, enabling serial recording of multiple loop layers with minimal UI interaction, great for live performances where pacing up the groove fast is a must.
'Load session' is finally here, and lets you refine or rehearse your previously saved work, while exporting has been redesigned for even faster sharing of your work via simple email. As before, audio loops are sent in one single email, as separate files, and attached to a comprehensible meta text file for the recipient (e.g. you) to easily access crucial session information (e.g. tempo or time signature). This greatly eases their use with other compatible audio software (e.g. in cases of further post production).
As before, the near millisecond response time of the rehauled engine let's you simultaneously use the touchscreen's old-school UI and a compatible MIDI pedalboard. Inbuilt Core Audio and Core MIDI compatibility makes "Loopr" compatible with most iOS compatible hardware available today.
Device requirements include iPhones, iPods, iPads running iOS 5.0 or greater. Audio and MIDI compatible hardware add-ons are highly recommended for optimal usage but not mandatory for basic functions.
"Loopr Live Loop Composer" is available on the App Store in the Music category.
More information is available on the loopr.net website, including many video examples, specific user resources, and other valuable related external links.