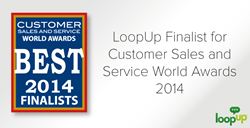 Our Customer Service team is experienced and responsive, and offers a truly personal service to our global customers.
San Francisco, CA (PRWEB) June 05, 2014
LoopUp, the provider of simple, pain-free conference calls and online meetings, today announced its recognition as finalist in the Annual 2014 Customer Sales and Service World Awards for its Customer Support team. LoopUp is competing in the Customer Service or Contact Center Department of the Year category.
The Customer Service and Sales World Awards is a global program judged by industry experts, and recognizes world-class performances in Sales and Customer Service individuals, teams and departments. Its entrants span public and private organizations, for-profit and non-profit, multinational corporations and new start-ups.
"I'd like to congratulate my team on this well-deserved recognition of the great work they do, day in day out," said Scott Ohmer, EVP of Strategic Partners and Customer Operations at LoopUp. "Our Customer Service team is experienced and responsive, and offers a truly personal service to our global customers. The result is very high customer satisfaction, which combined with our great product, generates net growth in our long-term customer base. This is very unusual in our industry, which is renowned for user frustration and churn."
Winners will be announced during a gala banquet on June 23, 2014 in San Francisco.
Details about the Customer Sales and Service World Awards and the list of finalists in all categories are available at http://www.cssworldawards.com/world/.
About LoopUp
LoopUp's award-winning SaaS solution makes conference calling less painful and collaboration easy. We help thousands of businesses host more productive remote meetings without classic annoyances such as not knowing who's joined, background noise, and difficulties sharing content. LoopUp alerts you when your first guest arrives, calls out to you when you wish to join, shows you who's on and who's speaking, and lets you share your screen with a click. LoopUp sells direct to the enterprise market and via distribution partners including Alcatel-Lucent Enterprise, BT and Cable & Wireless Communications. For more information, visit LoopUp at loopup.com; read our industry views at loopup.com/blog; follow us on Twitter @LoopUpTeam.
About the Customer Sales and Service Awards
SVUS Awards organized by Silicon Valley Communications are conferred in 10 annual award programs: The Info Security's Global Excellence Awards, The IT Industry's Hot Companies and Best Products Awards, The Golden Bridge Business and Innovation Awards, and Consumer World Awards, CEO World Awards, Customer Sales and Service World Awards, The Globee Fastest Growing Private Companies Awards, Women World Awards, PR World Awards, and Pillar Employee Recognitions World Awards. These premier awards honor organizations of all types and sizes from all over the world including the people, products, performance, PR and marketing. To learn more, visit http://www.svusawards.com.