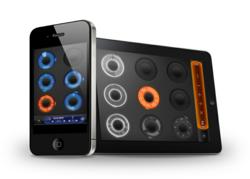 Musicians can now accomplish with Loopy what they previously had to spend hundreds and hundreds of dollars on bulky hardware to achieve.
Marseilles, France (PRWEB) December 05, 2011
Software artisan company, A Tasty Pixel today has released an update to its acclaimed live looping app, Loopy. The update introduces several industry-standard MIDI features, enabling interaction with external equipment, other audio software such as Ableton Live, and other apps running on the same iOS device. A fully trainable MIDI control scheme permits users to control the app via external MIDI controllers such as foot pedals, while MIDI clock synchronization features enable users to extend their performance capabilities by synchronizing other devices or software with Loopy.
"This is a very significant advance for Loopy," said A Tasty Pixel founder Michael Tyson. "These MIDI features immediately launch the app into the professional domain. Musicians can now accomplish with Loopy what they previously had to spend hundreds and hundreds of dollars on bulky hardware to achieve."
Loopy has received an enthusiastic reception from music industry professionals. L.A.-based rock band No More Kings frontman Pete Mitchell said "This is an incredible app...I'm definitely using Loopy to write the next album," while professional beatboxer and recording artist Dub Fx described the app as "the best loop station on the iPhone." Solo cello performer David Fernández recently released a series of YouTube videos demonstrating how he uses the looping app in his live performances.
Loopy empowers musicians to create by recording and layering, with up to twelve beautifully-rendered circular loops featuring overdubbing, count-in, count-out and record chaining. Users can import loops from a computer, or from other apps with integrated MAPI AudioPaste, and fit loops to the beat, no matter what tempo. A host of track features including full stereo audio with pan controls, track merging, configurable fade in or out, and live, dynamic tempo adjustment allow a wide range of expression. Whole performances can be captured with in-app session recording facilities, and recordings or individual tracks can be shared via SoundCloud, Twitter, Facebook or via email, or exported to many other audio apps with MAPI AudioCopy.
In addition to the new MIDI features, Loopy on the iPhone now offers users up to 12 tracks per session, enabling even more depth and richness.
Device Requirements: iPad, iPhone 3Gs or newer, or 3rd-generation iPod Touch or newer (microphone accessory recommended) running iOS 4.0 or later.
Loopy runs on the iPod Touch, but iPod Touch users must use Loopy HD with a headset or external microphone, as the iPod Touch does not have an inbuilt microphone.
Pricing and Availability: Loopy, the iPhone-only version of the live looper app, is available for $2.99 exclusively through the App Store in the Music category. Loopy HD, the iPad and Universal version of the app, is available for $7.99 through the App Store.
###