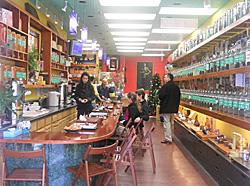 People come by for up to two hours sometimes just to learn about tea!
San Francisco, CA (Vocus/PRWEB) March 15, 2011
Vital Tea Leaf is the famous San Francisco loose-leaf tea bar that offers over 400 varieties of tea and a staff that views tea drinking as medicinal as it is pleasurable. The store has offers free tea lessons to all customers who want to learn more about anything from the medicinal properties of teas to proper steeping techniques.
"People come by for up to two hours sometimes just to learn about tea," said Ming, the smiling owner of Vital Tea Leaf.
Vital Tea Leaf offers a modern twist on the age-old tradition of Chinese tea drinking. Modeled after a wine bar, Vital Tea Leaf offers complimentary tastings of teas from China, Taiwan, and Japan. Uncle Gee and his son Ming return from far-away travel to visit tea growers and sellers with a variety of teas, including the rare "Virgin Angel Tea" with leaves so delicate it takes one person a whole day to handpick just a single pound of tea.
"This was the coolest thing we did our entire weekend in San Francisco!" said Vital Tea Leaf customer Jacques S. "I had never done a tea tasting before and so many of the teas were so good and the person doing the tasting was very entertaining and extremely knowledgeable. I ended up buying some tea, but it's a free tasting, no strings attached."
Ming and the other employees at Vital Tea Leaf in San Francisco educate customers on the health benefits and medicinal qualities of each tea, the individual flavor profiles of each type of tea, and how to prepare tea to yield its maximum flavor. They teach patrons about the health benefits of teas and the proper cleaning and steeping methods. Although they offer tea classes and seminars to interested parties, most classes are impromptu.
At Vital Tea Leaf, finding a specific green, red, pu-erh, black, or white tea in San Francisco has never been easier, and learning the artful intricacies of tea drinking has never been more delicious, fun, or inexpensive.
For more information about the tea classes or any of Vital Tea Leaf's products, call them at (415) 992-7195, visit them on the web at http://www.vitaltealeaf.net or drop by one of their San Francisco stores located at 509 Grant Avenue, 905 Grant Avenue, and 1044 Grant Avenue or one of their Seattle stores located at 1401 1st Avenue and 2003 Western Avenue, Suite 109.
About Vital Tea Leaf
Vital Leaf Tea is a tea bar that specializes in loose-leaf teas, hand-rolled flowering tea balls, as well as a variety of oolong tea, pu-erh tea, red tea, black tea, white tea, and green tea in San Francisco. Tea Leaf also offers an assortment of porcelain, glass, rare Yixing purple clay teapots, hand-painted tea sets, and other accessories.
The shop has been featured on international culinary and travel television shows such as History Channel: Only In America, World Chinese TV: Success Local Business, San Francisco Chronicle, Santa Rosa Daily, MTV Italy, Take Home Chef, Yan Can Cook, Travel Channel from Germany, Mexican Airline Magazine, American Airline Magazine, NBC TV Channel, Cincinnati TV Channel, Fine Living channel, and many other newspapers and magazines around the world.
###