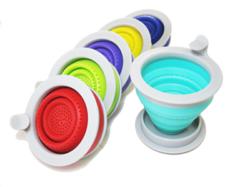 Boulder, CO (PRWEB) January 31, 2013
The Tea Spot, designer and manufacturer of innovative loose leaf teaware, will be participating in Ambiente - the largest household consumables trade show in Frankfurt, Germany, this February. The teaware company is able to make this marketing foray into Europe thanks to a grant from Colorado's Office of Economic Development and International Trade.
They will be among more than 4,500 exhibitors showing at the Ambiente trade show. These include consumer-goods manufacturers from around the globe. The trade fair provides a strongly international view of the world consumable goods, as it is the biggest trade show for this market. Ambiente expects to attract roughly 140,000 visitors this year.
The Tea Spot has sustained substantial growth in the U.S. market in its wholesale teaware and loose tea sales for the past three years, and is now poised to take its distribution to international markets. The loose leaf tea company is in negotiation to work with an exclusive distributor of its STEEPWARE® products throughout Europe.
Their line of STEEPWARE® infuses tea tradition with modern technology to make loose tea steeping simple and accessible. This line consists of a unique array of loose tea infuser products, including the 'Tuffy Steeper', an expandable silicone travel tea infuser, as well as the 'Steep & Go', a reverse infuser that pairs with water bottles to cold brew tea on-the-go, among others - all designed with the convenience and fast pace of modern lifestyles in mind. All Steepware® is lead free & BPA free.
###
The Tea Spot is a for-profit philanthropic business producing handcrafted loose leaf teas and Steepware® – the tools that make loose tea easy. The Boulder, Colorado-based woman owned and operated company was founded by Maria Uspenski in 2004. A cancer survivor drawn to the health benefits of leaf tea during her recovery, she set forth to modernize the loose-leaf tea experience. Her message is simple and powerful: tea in its freshest form renders incredible flavor, unmatched health benefits, and is eco-friendly. The Tea Spot is a Certified B Corporation and ensures that its products uphold clean, sustainable and fair manufacturing standards. The company's model of social entrepreneurship incorporates a culture of giving as it grows: ten percent of all profits are donated in-kind to cancer and community wellness programs.