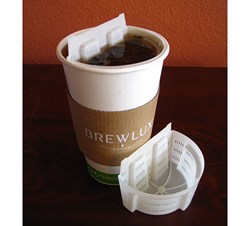 Natexpo is all about healthy food that respects the environment, so it's an ideal venue for us to showcase our eco-friendly Brewlux® filters for gourmet tea to-go. Thanks to our WUSATA® grant, we're excited to have the ability to make our first steps...
Boulder, CO (PRWEB) September 30, 2013
Boulder, Colorado-based loose leaf tea company The Tea Spot is exhibiting at the upcoming Natexpo trade show for organic, health food and ecological products. The show will take place October 20-22, 2013 in Paris, France.
Natexpo will host over 12,000 industry attendees from the natural and organic, health and fitness, and environmentally friendly products sectors. It is organized by the French Health Foods Federation – Natexbio – which addresses the world market for organic, ecological and health food products, which has almost quadrupled in ten years to a more than USD 60 billion-dollar market in 2012. Over 600 companies will be exhibiting organic food and fitness products, as well as sustainable products for home and personal use at Natexpo at the Paris-Nord Villepinte Exhibition Halls.
Exhibiting in booth B107 in Hall 7, The Tea Spot, creator of the Steepware® brand, will be showcasing their environmentally-friendly recyclable gourmet tea infuser – Brewlux®. Brewlux® infuses the goodness of whole leaf tea in a to-go cup. The large fixed volume of Brewlux® filter for tea to-go gives tea leaves room to expand to their full flavor and aroma. It sits elevated in the cup and stops steeping as you drink your beverage. Brewlux® offers the fastest loose tea delivery to the consumer and the easiest process for the barista. Brewlux® is completely contained in the disposable to-go cup, so there's no wet tea filter bag to contend with. It's also durable enough to be used for multiple infusions. Made from annually renewable plants, Brewlux® is sustainable and recyclable.
The Tea Spot is receiving assistance from WUSATA® (Western United States Agricultural Trade Association) to participate in the French natural and organic products trade show. WUSATA® is a non-profit trade association funded by the United States Department of Agriculture, whose members are the thirteen western state departments of agriculture. Their programs are designed specifically to help agribusinesses based in the Western United States explore, enter and expand into the global marketplace.
CEO Maria Uspenski announced The Tea Spot's decision to participate in the trade show: "Natexpo is all about healthy food that respects the environment, so it's an ideal venue for us to showcase our eco-friendly Brewlux® filters for gourmet tea to-go. Thanks to our WUSATA® grant, we're excited to have the ability to make our first steps into the French market."
ABOUT THE TEA SPOT: The Tea Spot is a leading producer of handcrafted loose leaf teas and creator of Steepware®–the housewares tools that make loose tea easy. The company's vision to modernize the loose leaf tea experience has held steadfast since the for-profit philanthropic company was founded by Maria Uspenski in 2004, a cancer survivor drawn to the health benefits of leaf tea during her recovery. Her message is simple and powerful: tea in its freshest form renders premium flavor, unmatched health benefits, and is eco-friendly. The Tea Spot's model of social entrepreneurship incorporates its mission to foster health and wellness through loose leaf tea, with its 10% pledge. Ten percent of the company's profits are donated in-kind to cancer and community wellness programs. The Tea Spot is a Boulder, Colorado-based woman-owned and operated business. TheTeaSpot.com