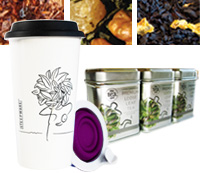 Boulder, CO (PRWEB) November 23, 2012
Tea lovers delight in finding the perfect new loose leaf teas, infusers, and tea gifts. The Tea Spot makes it easy to find the perfect gift sets and unique gift ideas for any tea drinker on your list with their tea concierge customer service, and gift guide. The Tea Spot's online tea shop now offers an array of tea samplers, tea clubs, and gift sets for every budget and diverse enough to fit the tastes of any tea drinker.
Amongst The Tea Spot's newest offerings are two new handcrafted loose leaf black teas. Smokejumper Ginger Tea and Russian Caravan are loose black teas that incorporate Lapsang Souchong—a smoke-scented Chinese black tea, traditionally processed by drying tea leaves over smoldering pinewood fires. It is a tea reputed to have been a favorite of Winston Churchill's—unsurprising, as it's commonly referred to as "the Scotch of teas".
Smokejumper Ginger tea is the tea of choice if you need a rejuvenating wakeup call. This is an invigorating and spicy blend of Lapsang Souchong and ginger root. It has sharp ginger highlights and a smoky backbone. The resulting blend is warming, spicy, and feels good on the throat. Because ginger root is sought out for its reputed health benefits, it is also used in The Tea Spot's Cold Buster tea and Climber's High tea. Paired here with smoky Lapsang Souchong, the ginger tea brings to life a powerful new flavor combination: sharp and smooth, calming and awakening.
The Tea Spot's Russian Caravan is a handcrafted full leaf version of the classic blend. It is strong and bold, with an intriguing complexity and smooth profile. Russian Caravan is blended by the careful composition of four high-quality large leaf teas—Lapsang Souchong, Dark Roast Oolong, Assam & Pu'erh. This black tea blend brings new life to an ancient tradition of flavor. Historically, teas were brought to Russia from China via large caravans of camels. They transported massive cargos of goods over 5000 miles from Peking to Moscow: smoky black teas, large leaf oolongs, and aged Pu'erh were mixed and consumed along the arduous journey. Catherine the Great's 18th court was amongst the privileged few in Russia to enjoy the luxury of Chinese loose leaf tea. They called it "Camel Caravan Tea," but today it is known throughout the world as "Russian Caravan."
The Tea Spot's holiday tea gifts feature the most popular loose leaf tea and Steepware® products sold by the loose leaf tea company, for a bundled discount off the price of the individual items. The Tuffy Tea Steeper is included in "Leaf Tea Discovery" and the Steeping Mug is featured in the ever-popular "Flowers and Chocolate!" tea gift. Best-selling loose leaf teas such as "Chocolate 'O'", "Jasmine Petals", "Meditative Mind" and "Earl of Grey" are also featured in these gift sets.
This Black Friday (November 23, 2012) The Tea Spot will be offering a global online discount, and Cyber Monday (November 26, 2012) they will email exclusive deals to their Newsletter Subscribers. Shoppers must be signed up for their free newsletter by Sunday, November 25 to receive the Cyber Monday discounts. Subscribers will be emailed the morning of Cyber Monday and deals will last for one day only, while supplies last.
###
The Tea Spot is a for-profit philanthropic business producing handcrafted loose leaf teas and Steepware® – the tools that make loose tea easy. The Boulder, Colorado-based woman owned and operated company was founded by Maria Uspenski in 2004. A cancer survivor drawn to the health benefits of leaf tea during her recovery, she set forth to modernize the loose-leaf tea experience. Her message is simple and powerful: tea in its freshest form renders incredible flavor, unmatched health benefits, and is eco-friendly. The Tea Spot is a Certified B Corporation and ensures that its products uphold clean, sustainable and fair manufacturing standards. The company's model of social entrepreneurship incorporates a culture of giving as it grows: ten percent of all profits are donated in-kind to cancer and community wellness programs.