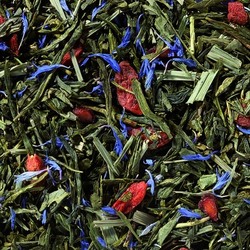 This particular green tea blend was among the winners recognized in the 2009 World Tea Expo Championship, in the blended and flavored green tea category
Carol Stream, IL (Vocus) July 13, 2010
Online tea shop ESP Emporium has announced the arrival of their newest flavor of loose leaf tea, an award-winning green tea blend that features goji berries, blueberries and pomegranate, as well as lemongrass and cornflower blossoms. The new tea blend is available immediately for purchase online.
"This particular green tea blend was among the winners recognized in the 2009 World Tea Expo Championship, in the blended and flavored green tea category," said Steve Popec, co-founder of ESP Emporium. "It features a uniquely appetizing taste and aroma, as well as hints of lemongrass and cornflower blossoms, which mixed with a high quality green tea makes a distinctly pleasant drink."
"The arrival of this blend is a noteworthy addition to our selection of specialty teas," said Popec. "We are constantly sampling different tea blends and infusions, and this blend is one of the finest we sell, not only for its delicious aroma and taste, but also the health benefits offered in its individual ingredients."
ESP Emporium's Goji Berry/Blueberry/Pomegranate Green Tea blend is available for immediate online purchase, in a variety of sizes:
50 Grams (1.76oz) Price: $4.95 (USD)
100 Grams (3.53oz) Price: $8.95 (USD)
250 Grams (8.82oz) Price: $20.95
500 Grams (17.64oz) Price: 39.95
The green tea/goji berry/blueberry/pomegranate blend is packaged as a loose tea that can be served hot or cold after brewing at 176° - 194° F for 2-3 minutes, and features the following ingredients:
Green tea (80 %), goji berries, lemon grass, pomegranate seeds, flavoring, cornflower blossoms
.
About ESP Emporium: The ESP Tea Emporium is an American-based, online tea shop located in the Midwestern US, which specializes in premium loose teas and tea-related accessories.
For more information about this announcement please visit ESP Emporium online (http://www.espemporium.com), or contact Steve Popec at 1-866-810-1818.
###