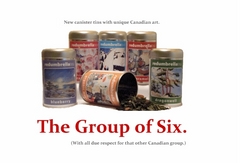 The RedUmbrella Tea Canadian National Arts Series is about more than tea, its about enriching the lives of Canadians and funding charitable programs.
Toronto, ON (PRWEB) December 1, 2009
In partnership with six Canadian artists, Canada's RedUmbrella Tea has launched its Canadian National Arts Series Label Program.
The RedUmbrella Tea Canadian National Arts Series mission is to enhance and enrich the lives of all those who come in contact with RedUmbrella Tea by bringing the artistic work of foremost Canadian artists to RedUmbrella Tea customers, and the wider Canadian public at large, and by using a portion of the sale of each loose leaf tea product to help fund charitable programs, like Toronto's Yonge Street Mission.
Decorated Canadian artists Wilf McOstrich, Valerie Kent, Gill Cameron, Rina Gottesman, Marianne Broome and Valerie Russell each donated one of their artistic works for use in the program.
"We were pleasantly delighted to find ourselves working with such talented artists that were willing to donate their work to this program" co-owner Timothy Oostendarp said.
The art donated by the six artists will be used to label RedUmbrella Tea's loose leaf tea products.
About RedUmbrella Tea
RedUmbrella Tea built its business plan around the concept of high quality tea at fair prices, under the broad objective of becoming Canada's first and preferred choice for online loose leaf tea purchases. Their slogan 'Indulge for Pleasure. Indulge for Life.' encompasses what RedUmbrella Tea represents: making loose leaf tea as affordable as possible—so it can be enjoyed—but also highlighting its many wonderful health benefits—that it can help anyone lead a happier, healthier, more full life.
Media Contact:
E. Joy Oostendarp
416-888-2164
http://www.RedUmbrellaTea.com
###