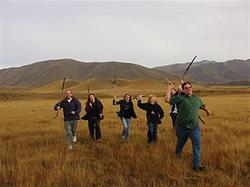 The New Zealand Lord of the Rings tour allows die hard fans of the film to share experiences with their favorite characters, as they explore shooting locations
Miami, FL (PRWEB) June 4, 2010
Lord of the Rings fans can get a behind-the-scenes look at the film by joining the Lord of the Rings New Zealand tour from travel adventure company, Adventure Bound (http://www.AdventureBound.com). The tour will take visitors to sites seen in the film including Hobbiton, the Huka Waterfalls, and the Glow Worm Caves in addition to meeting with locals who were involved with the film.
"The New Zealand Lord of the Rings tour allows die hard fans of the film to share experiences with their favorite characters, as they explore shooting locations," said Adventure Bound's Chief Travel Dude, Erick Recors. "We try to involve landowners, film extras, and local artisans in the tour whenever possible. They often enjoy the opportunity to relive the experience and share it with travelers as much as visitors do."
Fans of the films immerse themselves in a tour where fantasy meets reality. They can have their photo taken underneath the Party Tree and outside Bag End. They'll see bubbling mud pools and the sites of Mordor, Emyn Muil, and Mt. Doom. They can visit Gollum's fishing pool. They'll meet the man who trained the horses and taught the actors to ride for the films when they visit the Black Rider's Ranch. They'll even visit the Elven Cloak Factory to see how the cloaks and other costumes for the film were made. It's an all-out behind-the-scenes look at the settings and people behind the Lord of the Rings trilogy -- something no serious fan should miss.
The Lord of the Rings New Zealand tour is a 13 day, 12 night tour and tours are available from now through the end of the year. Packages include coach transport, guided tours (available in English and German), hotel accommodations, a meet and greet on their arrival, entry fees to private Lord of the Rings sites, and airfare from Wellington to Christchurch. Some meals are also included -- nine breakfasts, one lunch, and two dinners. The cost of the day tour of Hobbiton is not included in the base price. That tour, which includes a light lunch, costs an additional NZ$195.
About Adventure Bound
Adventure Bound is an adventure travel company offering a unique selection of guided tours for different travel styles. They mix discovery, learning, adventure, and volunteer opportunities for fun and unforgettable trips. The company's mission is to change lives through eye-opening adventures that leave a positive impact on both travelers and the local culture. Adventure tours are available in North, South, and Central America, Europe, Asia, the Middle East, Africa, Australia and New Zealand.
For more information about the New Zealand Lord of the Rings tour or other adventure travel packages available through Adventure Bound, please visit AdventureBound.com or contact Erick Recors at 888-391-5144.
Media Contact
Erick Recors
Adventure Bound
Phone: 888-391-5144
Email: info(at)adventurebound(dot)com
Web: http://www.AdventureBound.com
###