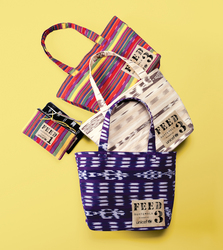 "We are certain that this program will help raise public awareness of the cause in a fashionable, exciting way."
New York, NY (PRWEB) May 17, 2010
Lord & Taylor has partnered with FEED Projects to exclusively sell a "FEED 1 Guatemala" pouch and "FEED 3 Guatemala" tote. Under the leadership of Lauren Bush, CEO, Creative Director and co-Founder of FEED Projects LLC, funds raised through the purchase of the bags will help the United Nations Children's Fund (UNICEF) provide daily nutrient powder for one child or three children (respectively) in Guatemala for one year.
"Lord & Taylor is thrilled to support the FEED Project and UNICEF's mission to promote health and well-being for children in Guatemala," says Liz Rodbell, Lord & Taylor's Executive Vice President of Merchandising. "We are certain that this program will help raise public awareness of the cause in a fashionable, exciting way."
According to UNICEF, "Guatemala has one of the worst nutritional conditions in the region. Nearly 23% of children over three months and under five years of age suffered from general malnutrition, while almost one-half suffered from chronic malnutrition in 2006." For every "FEED 1 Guatemala" pouch and "FEED 3 Guatemala" bag sold by Lord & Taylor, FEED will donate $3.50 or $10.50 respectively to the U.S. Fund for UNICEF to help support UNICEF's nutrition programs in Guatemala. Both the pouch and the tote bag are available for purchase at any Lord & Taylor store in the U.S. and online at Lord & Taylor FEED
The FEED Guatemala bags are handmade by Nest, a nonprofit organization that empowers female artists and artisans around the world. The Guatemalan Nest artisans used their traditional Ikat fabrics to make the fun and handy "FEED 1 Guatemala" zippered pouch and the sturdy and sizable "FEED 3 Guatemala" tote bag. The variety of colors and woven patterns reflects the vibrant Guatemalan culture and gives each customer an array of colors and patterns to choose from. Purchase of the bags celebrates the traditional crafts of Guatemala and supports women artisans, while also generating funding to help UNICEF provide micronutrient supplements to children so they grow up stronger, healthier and better equipped to move beyond extreme poverty.
These bags are a great way to help children in need not only by the donations but also by increasing awareness… And you'll look great while doing it! The "FEED 1 Guatemala" pouch and "FEED 3 Guatemala" tote cost $19 and $39, respectively. Both can be purchased at Lord & Taylor stores in the US and online. For more information, please visit: Lord & Taylor FEED.
About FEED Projects:
FEED Projects is a charitable company with the mission of creating good products that FEED the world. "FEED Bags" have so far provided funding for over 55 million school meals for children around the world through the United Nations World Food Program. The FEED Guatemala project will be the launch of a new FEED partnership with the U.S. Fund for UNICEF to raise money and awareness for younger children's nutrition programs in Guatemala. FEED Projects LLC was co-founded by Lauren Bush and Ellen Gustafson.
About Lauren Bush:
Lauren Bush is the CEO, Creative Director and co-Founder of FEED Projects LLC. She also serves as the Chairman of the Board for the FEED Foundation. In 2004, Lauren became an Honorary Spokesperson for the UN World Food Program (WFP). As Honorary Spokesperson, Lauren has traveled to eight countries around the world visiting WFP operations, and helped start the Universities Fighting Hunger Campaign in the US.
About UNICEF:
UNICEF has saved more children's lives than any other humanitarian organization in the world. Working in over 150 countries, UNICEF provides children with health care, clean water, nutrition, education, emergency relief, and more. The U.S. Fund for UNICEF supports UNICEF's work through fundraising, advocacy, and education in the United States.
UNICEF is at the forefront of efforts to reduce child mortality worldwide. There has been substantial progress—the annual number of under-five deaths dropped from 13 million in 1990 to 8.8 million in 2008. But still, 24,000 children die each day from preventable causes. Our mission is to do whatever it takes to make that number zero by giving children the essentials for a safe and healthy childhood. For more information, visit http://www.unicefusa.org.
About Lord & Taylor:
Lord & Taylor is an upscale specialty department store with 47 stores in nine states and the District of Columbia. Lord & Taylor has built a reputation for attentive customer service and high-quality merchandise focused on apparel and accessories. Founded in 1826, Lord & Taylor is America's oldest department store and one of America's premier retailers.
# # #