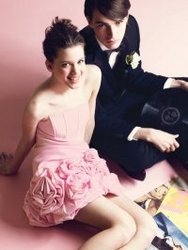 New York, NY (PRWEB) March 15, 2010
Lord & Taylor is hosting Prom-A-Palooza, an exciting event featuring a fashion show and amazing shopping deals. Prom-A-Palooza is being held at all locations but for those near the NYC Flagship location, the fashion show will feature special pieces designed by alumni of Parsons The New School for Design and attendees will get the chance to win amazing prizes!
Lord & Taylor will host prom fashion shows at all their locations on Saturday, March 20, 2010 from 1PM-5PM. In addition to a fabulous fashion show, Lord & Taylor is offering 25% off prom dresses (with free basic alterations included) and 20% off all regular and sale-priced merchandise storewide throughout the day.
Located in the NYC area? The fashion show at Lord & Taylor's Flagship location in New York City will feature three dresses exclusively designed by alumni of Parsons The New School for Design. These three alumni won a dress design competition for Lord & Taylor in Fall 2009. A $5,000 prize was awarded to first-place winner Samantha Sleeper (BFA Fashion Design, 2009), and $2,500 was awarded to each of the second-place winners, Nicki Cozzolino (AAS Fashion Design, 2008) and Hannah Haein Lee (BFA Fashion Design, 2009). These designs will be on display in Lord & Taylor's Fifth Avenue windows from March 18th – April 12th, and some of the winners will be present at the March 20th event to offer fashion and prom styling advice.
Proceeds from sales of the Parsons alumni dresses will benefit the Elizabeth Glaser Pediatric AIDS Foundation, which seeks to prevent pediatric HIV infection and to eradicate AIDS through research, advocacy, and prevention and treatment programs. In the 20 years since the Foundation began, it has become a worldwide leader in the fight against pediatric AIDS.
If a fashion show and amazing deals aren't enough, there's more! The high school with the greatest number of students attending Prom-A-Palooza NYC wins a $1000 grand prize toward prom! Attendees can also enter for a chance to win a prom dress of their choice – up to $300!
Prom-A-Palooza NYC is being held from 1PM-5PM on the 3rd Floor of Lord & Taylor's Flagship location at 424 Fifth Avenue. For more information about Prom-A-Palooza, visit their Facebook page or follow them on Twitter.
About Lord & Taylor
Lord & Taylor is an upscale specialty department store with 46 stores in nine states and the District of Columbia. Lord & Taylor has built a reputation for attentive customer service and high-quality merchandise focused on apparel and accessories. Founded in 1826, Lord & Taylor is America's oldest department store and one of America's premier retailers.
# # #