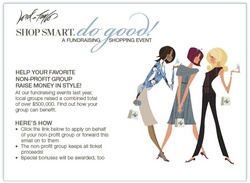 New York, NY (PRWEB) July 26, 2010
Lord & Taylor wants to help your not-for-profit organization in style - literally! Throughout October and November, select Lord & Taylor stores are participating in Shop Smart. Do Good!, a special event hosted by Lord &Taylor in support of local fundraising organizations.
After an organization applies to participate in Shop Smart. Do Good!, Lord & Taylor will provide admission tickets to be sold by the organization before the date of the event. Each ticket is valued at $5 and includes a special 20% coupon to be used on one sale or regular priced item, and a 15% savings pass to be used throughout the day of the event on almost everything including cosmetics and fragrances. And the best part yet? The organization gets to keep ALL proceeds from ticket sales! Organizations can even earn more in contests held the day of the event. Congratulations to the organizations who participated in Fundraising Day Spring 2010 – $280,000 was raised. Here is a list of this Fall's participating locations and the date of the store's Shop Smart. Do Good! day:
Manhasset – October 5th
Chicago Area – October 5th
Ridgewood – October 7th
Westfield – October 27th
Garden City – November 2nd
Stamford – November 3rd
Eastchester – November 12th
As usual, Lord & Taylor is also taking all the steps to make this event successful for all the participating organizations. They will be running ads promoting the day in local papers, and post the event on the Lord & Taylor Facebook fan page. Looking for a fun way to raise money for an organization? This is it! Visit http://www.lordandtaylor.com/dogood to apply today!
About Lord & Taylor:
Lord & Taylor is an upscale specialty department store with 47 stores in nine states and the District of Columbia. Lord & Taylor has built a reputation for attentive customer service and high-quality merchandise focused on apparel and accessories. Founded in 1826, Lord & Taylor is America's oldest department store and one of America's premier retailers.
###