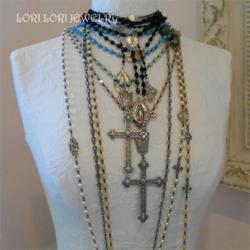 I'm so thrilled to be partnering with Peace, Love & Decorating. These women have an eye for the finest things from luxury items to down-to-earth fabulous home collectibles as well as edgy distinctive jewelry with feminine flare
Duluth, Georgia (PRWEB) May 23, 2013
Peace, Love & Decorating, a leading online women's jewelry and home decor retailer, announces the addition of Lori Lori Jewelry to its specialty women's jewelry offerings. The Lori Lori Jewelry line joins other top Peace, Love & Decorating boutique handcrafted women's jewelry lines such as Shannon Koszyk Jewelry, Lenny & Eva Jewelry and Rhonda Smith Designs. In addition to women's jewelry, Peace, Love & Decorating specializes in Old World, French and European style home accessories and home decor, luxury bath and body products and boutique women's gifts and fashion accessories.
Lori Lori Jewelry is designed by Lori Gincig in her California studio. Inspired by her love of vintage style and antique jewelry, Lori handcrafts her original line of unique women's jewelry using the highest quality pure materials. Well known in Nordstrom department store for her first jewelry brand, Lori returns to her artistic roots to create her beautiful line of women's high quality fashion jewelry with a one-of-a-kind heirloom look. Lori's luxurious line of women's jewelry artfully combines her original pewter charm hand-castings with faceted Czechoslovakian (Czech) crystal beads into handmade necklaces, bracelets and earrings.
"I'm so thrilled to be partnering with Peace, Love & Decorating. These women have an eye for the finest things from luxury items to down-to-earth fabulous home collectibles as well as edgy distinctive jewelry with feminine flare," states Lori Ginqic, founder, designer and creator of Lori Lori Jewelry.
Lori Lori Jewelry is inspired by vintage French and European antique jewelry pieces, Art Deco designs and Old World religious charms, medals and crosses. Lori's pewter charms and pendant designs are hand cast then hand-finished to achieve the perfect patina.
"I love the energy in my religious pieces. I want my jewelry to be provocative yet calming. Peace, joy, faith and love are part of the recipe behind each of my designs," explains Lori Gincig, founder and creator of Lori Lori Jewelry.
Lori Lori Jewelry has the look of an original heirloom jewelry piece yet her stunning necklaces, earrings and bracelets are surprisingly affordable. When worn alone, Lori Lori Jewelry is the perfect fashion accessory to add to any women's outfit, but her necklaces make a fabulous statement when layered. Lori Lori Jewelry is well known in the world of Hollywood and has been worn by celebrities and fashion icons such as Jennifer Aniston, Courtney Cox, Tori Spelling, Jenny Garth and Marcia Cross to name a few.
"When we first discovered the fabulous vintage style jewelry from Lori Lori, we knew they would be perfect for our boutique jewelry customer who wants an affordable statement piece with the look of a one-of-a-kind jewelry piece," explained Peace, Love & Decorating co-founder Jana Contardi. "We love the intricate detail in Lori's hand castings and the combination of the delicate crystal beads mixed with charms, lockets and crosses," adds Peace, Love & Decorating co-founder Jennifer Cook.
Peace, Love and Decorating is located just minutes north of Atlanta on the historic square in downtown Duluth, Georgia and offers the top brands in Old World home decor, designer lighting fixtures, luxury bedding, women's jewelry, and boutique fashion accessories as well as a large selection of unique gifts for every occasion. Peace, Love & Decorating features an eclectic variety of Old World, French and European styles mixed with vintage and urban flair and offers some of the most sought after brands and manufacturers marketplace. Please visit us online at http://www.peaceloveanddecorating.com or in our retail store located at 3129 Main Street, Duluth, Georgia 30096.