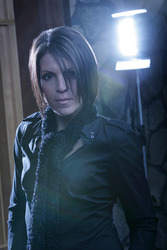 Hot Lesbian Singer Duets with Real New Jersey Housewife
New York (PRWEB) June 21, 2010
Singer-songwriter Lori Michaels will premiere her new song "Real Close" tonight, performing it with The Real Housewives of New Jersey's Danielle Staub on Bravo's "Watch What Happens Live".
Michaels, whose high-energy and sexy performances have made her one of the country's most popular openly gay stars, said she met Staub backstage at The Nokia Theater in NYC after performing there last summer. An experienced songwriter and seasoned performer, Michaels soon started working with Staub's daughter, Jillian, on her music project.
When Staub heard "Real Close'' -- a girl-on-girl duet that Michaels was about to release – "she said she really wanted to perform it with me,'' Michaels said. "Danielle wanted to do it live without her voice being manipulated -- like the two other housewives with songs out."
The pair may eventually record up to five versions of the song -- including their live "torch song" version, a full band version, and dance remixes. The song, one of hundreds written by Michaels, is about two people who love each other, but just can't seem to commit.
Michaels and her head-turning Me & the Girls shows have been a popular fixture at Pride Festivals and high profile GLBT events since 2006, when Michaels hosted her official "Coming Out'' party at the House of Blues' Club Worship in Atlantic City.
She also performs provocative solos on keys -- and has belted out soaring renditions of the National Anthem at NBA, NFL, NHL and other major-league sporting events. Her latest release, "Rebound", produced by Giuseppe D., is currently available on iTunes. In 2008, she released her debut album, "Living My Life Out Loud,'' on Reform Records.
GO! Magazine said of Michaels: "Every once in a while an enigmatic, stereotype-breaking artist like Lori Michaels comes along to level the playing field and change the rules of the game.''
OutSmart Magazine compared her to Justin Timberlake and said: "This gorgeous, out musician delivers fine vocals and arrangements (and) high-quality pop."
Michaels put together her act Me & the Girls to showcase her full range of talents including choreography, performance and production. The group's erotic, hard-driving song-and-dance performances always get audiences up on their feet -- and frequently end in panty-tossing frenzies.
Michaels doesn't just sing for her audiences, she commands them.
Michaels grew up in the small town of Fairview, New Jersey. She got her professional training beginning at age 10 at the Broadway Dance Center in New York City. She later graduated from New York University with a pre-law degree, but her interests soon turned to music and charitable causes. She founded the non-profit organization, Reach Out, Inc., at age 16 and she still devotes her time (and talent) to help various communities and charitable causes.
Her dance single "Wild Ride" is featured in the film, "And Then Came Lola," in the Season 2 premiere episode of MTV's Hot Hit Reality series "THE CITY" and on hit dance CD compilations. Her song, "Meet Me At The Partay" is featured in the film "Ptown Diaries." MTV's LOGO Network named the music video version of this song as one of its "Ultimate Sexiest Videos.''
Her next performance will be on July 24 at Provincetown's annual Girl Splash event which will also feature Sandra Bernhard.
For more information, contact Judy Miller at 202-280-6678 or go to http://www.lorimichaelsmusic.com .
To see a live performance, go to http://www.youtube.com/watch?v=4gKpUNS_6ao
###