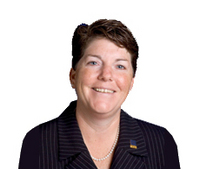 Naples, FL (PRWEB) December 4, 2009
Neighborhood America Director of Human Resources, Lori Burke, recently earned professional and personal development recognition in the way of a prestigious scholarship from the Society of Human Resource Management (SHRM) Foundation.
Among the applicants within the United States in pursuit of an advanced degree, Burke was chosen as one of five HR professionals awarded the Barbara Sanchez Scholarship through the SHRM Foundation scholarship. Burke's award is representative of the Southeast U.S. region. The Barbara Sanchez Scholarship is unique in that it recognizes HR professionals working in the media field, in Burke's case, the emerging social media industry. Additionally, she received local recognition through a scholarship from HR Collier, her local SHRM chapter where she currently leads the social media committee.
Through her work experience at Neighborhood America, Burke has advanced her HR expertise by utilizing social media as a vehicle for recruitment – both online and through mobile. She often shares best practices on a local and national stage, speaking at various industry events and being featured in publications such as Mashable's November 2009 article, "7 Ways to Get More Out of LinkedIn," and an upcoming article in HR Magazine –with worldwide distribution of 250,000.
This social media expertise has been invaluable in enabling Burke to recruit exceptionally talented employees for Neighborhood America. Nearly 40% of the company's current workforce was hired in 2009, including two C-level executives.
"We'll continue to aggressively recruit top-notch professionals in 2010 as we seek to fill key positions and staff a new Atlanta office," says Lori Burke, Director of Human Resources of Neighborhood America. "I am privileged to work for a company where my education and passion for social media come together."
Visit http://www.neighborhoodamerica.com/careers to view current openings.
About Neighborhood America
Neighborhood America is an award-winning provider of enterprise social media and mobile marketing solutions for businesses and government agencies. Neighborhood America's SaaS offerings and strategic consulting services help customers build brand loyalty and stronger constituent relationships, create channels for direct feedback, and improve financial performance. With more than a decade of experience, Neighborhood America generates total network value for federal, state and local agencies, as well as many of the world's largest brands, including adidas, Crispin Porter + Bogusky, Kodak Gallery and Microsoft. Awards include the 2009 and 2008 SIIA CODiE Award for "Best Social Networking Solution" and the global Mobile Marketing Award for "Best Use of Marketing, Cross-Media integration." Visit http://www.neighborhoodamerica.com/.
# # #