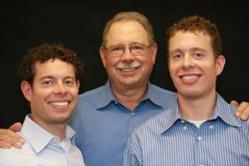 I spend more than 150 hours a year attending advanced continuing dental education as well as being a clinical dental instructor at Virginia Commonwealth University's Medical College of Virginia School of Dentistry in Richmond, Virginia.
Lorton, VA (PRWEB) February 24, 2012
When Aesthetic Dentistry of Lorton creates "Facelift Dentures™," the outcome can be dramatic - like a facelift - often in a few short visits. This facelift, however, is totally without pain, bruising or swelling because no facial surgery is needed.
When a person loses all of his/her teeth and gets a set of dentures, the jawbone has already been destroyed. Gum disease - a common and aggressive disease - is the number one reason people lose teeth because it causes drastic bone loss. However, even if patients do not have bone loss before they get dentures, bone loss is natural after they get dentures. This is because after teeth are lost, the jawbone is programmed to shrink away. Eventually, the face begins to get a "sunken-in" look. The chin and nose get closer together as the face begins to collapse, causing rapid aging. "Facelift Dentures™" help to restore the soft facial tissue. Facelift Dentures™ support the face the same way natural teeth and bone supported the face many years prior.
At Aesthetic Dentistry of Lorton, Dr. Ed Reeves has been creating beautiful smiles to include custom-designed dentures for many years. Often many hours of appointment time and try-ins were needed in order to accomplish what he can now do in a fraction of the time with the "Facelift Denture™" technique. With this technique, he is quickly able to determine where the teeth would have ideally been located when his patients were in their twenties or thirties – giving them the most natural looking smile while totally rejuvenating the entire facial structure.
Dr. Ed Reeves is also experienced in the restoration of dental implants - small titanium posts that are gently placed in the jawbone and that snap onto tiny attachments inside your denture. The denture fits securely, no longer rocking or slipping while eating or speaking. The latest in technology and dental techniques is available to residents of Lorton looking for cosmetic dentistry. Anyone wishing to learn more about this or the Facelift Denture™ technique can visit http://www.lortondental.com. There, the latest in technology and dental techniques is available to residents of Lorton looking for cosmetic dentistry.
# # #