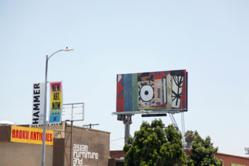 Los Angeles, CA (PRWEB) July 31, 2012
Work by three distinguished artists from Otis College of Art and Design can be viewed currently at the Tate Modern Gallery, Hammer Museum, and on billboards above the streets of Los Angeles.
Meg Cranston (Chair, Fine Arts) and Roy Dowell (Chair, Graduate Fine Arts) were selected to participate in the Hammer Museum's first large-scale biennial survey of the work of sixty Los Angeles-based artists, Made in L.A. 2012. In addition to the exhibition, on view at the Hammer Museum through September 2, both artists were invited to produce public art billboards on a well-trafficked Los Angeles street.
Roy Dowell's billboard, on display during July on the east side of La Cienega Blvd between Venice and Washington Blvds, is produced by LAXART Public Art Initiatives and ForYourArt - Los Angeles Public Domain (LAPD). Roy's collages are inspired by design, advertising, and popular and world cultures. Although he uses abstract elements, Dowell draws from the representational and specific. The billboard recycles scraps of old billboards, combining the languages of public art and large-scale advertising, while connecting the sources and visual elements to his thirteen sculptures on display at the Hammer.
In August, Meg Cranston will create a billboard displayed at the same location. "For my first billboard," she explains, "I did a version of my work in Made in L.A. 2012 at the Hammer. To have the image (of multiple cigarettes lighters) in two places makes it like an ad campaign. The question is what am I advertising? I suppose "real" advertisements work in a similar way. What is pictured is often only metaphorically related to the product being sold. Puppies can be used to sell toilet paper or an image of a beautiful woman to sell snow tires. To me the lighters have poetic resonance but I will let the audience decide."
LAXART's contribution to Made in L.A. is "This is a Takeover! A Ten-Year Survey of Slanguage." Slanguage, the internationally renowned artists' collective co-founded by Otis alumnus Mario Ybarra, Jr., produced an interactive installation along with public events and performances that take place through September. Heralded by the L.A. Times as a "rare institution that successfully straddles the community and mainstream art worlds," Slanguage focuses on art education, community-building, and interactive exhibitions to cultivate relationships between diverse artists, students, communities, and organizations.
The Crystal Quilt, by pioneering activist and artist Suzanne Lacy (Chair, Graduate Public Practice), has been recreated for London's Tate Modern, July 18-October 28, for the inaugural exhibition of 'The Tanks' at the Tate Modern, designed by Swiss architectural duo Herzog & de Meuron. The new space, a series of recycled underground concrete oil tanks, opened to the public as part of the current London 2012 Festival in conjunction with the Cultural Olympiad.
The original Crystal Quilt (1987) took place in Minneapolis where Lacy gathered 430 women over the age of 60 to share their views on growing older. The resulting performances, broadcast live on television, were attended by more than 3,000 people. The Crystal Quilt at Tate Modern combines the original elements of performance, activism, and broadcast in an ambitious work fusing social responsibility with the power of aesthetics. Lacy plans to update this groundbreaking piece with 'granny flash mobs,' a performance piece that celebrates the achievements of older women in Britain.
About Otis College of Art and Design
Founded in Los Angeles in 1918, Otis College of Art and Design prepares diverse students of art and design to enrich the world through their creativity, their skill, and their vision. The College offers an interdisciplinary education for 1200 full-time students, awarding BFA degrees in Advertising, Architecture/Landscape/Interiors, Digital Media, Fashion Design, Illustration, Graphic Design, Product Design, Painting, Photography, Sculpture/New Genres, and Toy Design; and MFA degrees in Fine Arts, Graphic Design, Public Practice, and Writing. Continuing Education offers certificate programs as well as personal and professional development courses. Additional information is available at http://www.otis.edu.