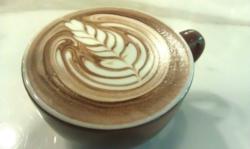 Being in the top twenty so far is a great honor, we'd really like to attend the event and represent Los Angeles in the final competition.
Los Angeles, CA (PRWEB) July 26, 2012
The Seattle Coffee Fest is an American trade show specializing in everything coffee and has been running since 1992. With a focus on specialty coffee, tea, and alternative beverages, the event focuses on bringing together the coffee industry's retailers, distributors, and manufacturers in order to promote the cause of coffee. Coffee Fest has three trade shows that take place in New York, Seattle, and Chicago. In addition to all this, the show puts on America's Best Coffeehouse Competition in order to celebrate the best coffeehouses in North America. Brew Coffee Bar, a local coffee shop in Los Angeles, is hoping to attend the upcoming event in Seattle.
"Being in the top twenty so far is a great honor, we'd really like to attend the event and represent Los Angeles in the final competition," says Brew Coffee Bar Founder, Charn Bak. The company focuses on offering direct-trade specialty coffees and high-end Stumptown Coffee Roasters, along with decadent pastries and French hot chocolate. The coffee shop recently opened its second physical location at the Sunset (CNN) Tower in Hollywood which features Hollywood's first pull-up coffee service, in addition to the mobile coffee truck it provides in Downtown LA. Brew Coffee Bar is currently one of six coffee shops in California and one of only two coffee shops in Los Angeles that is still in the running for the title of best coffeehouse in America.
To prepare for this event, Brew Coffee Bar has setup a new in-store latte art promotion that helps build relationships between their baristas and clientele. To participate, customers snap latte art photos of the beverages they order and post their photos on Brew's facebook page. The photo with the most "likes" each week wins a free 12oz bag of Stumptown Coffee or a $10 gift card that is redeemable at any of Brew Coffee Bar's locations throughout Los Angeles. "We launched this promo at all of our coffee shops to not only help our baristas train for the upcoming Seattle Coffee Fest competition, but to also help foster a more personalized relationship with our customers and get them excited about specialty coffee!" says Charn Bak.
The deciding factor will be an online voting process that is currently taking place from now until September 4th. If Brew Coffee Bar gets the necessary number of votes, they will be one of eight coffee shops that are invited to attend the Seattle Best Coffeehouse event. This budding coffee shop can represent Los Angeles and take home the title. Log on to the Coffee Fest website to place your vote.
###
ITC is a high-end Internet Marketing firm ranked in the top 1% of their industry. ITC prides itself on being the firm handling Brew Coffee Bar's online marketing efforts.