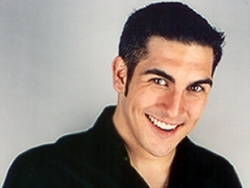 Keep DJ-ing, because I love what I do!
Los Angeles, CA (PRWEB) August 23, 2008
The pressures of the failing economy are being felt by everyone, but one Los Angeles DJ feels he may have found a recession resistant industry. Los Angeles DJ Sam House, founder of House Entertainment, has provided entertainment for weddings, birthdays, and special events since 1998. Sam loves his work, and feels he is blessed to be able to do what he enjoys for a living. On the weekend, Sam can be found behind the turntables at some of the most elite Hollywood events. During the week however, you'll have a better chance finding him playing with his one and a half year old son Max, or studying on campus at UCLA. Sam can also be found at djsamhouse.com.
Growing up in Detroit, MI Sam was no stranger to economic hardship. Raised by a single mother on welfare, Sam's story is truly that of triumph over insurmountable odds. After making his way to California to live with his father at the age of 13, Sam developed a passion for music and performance. That passion later developed into the driving force behind Sam's success. While working full time and going to Riverside Community College, Sam decided to take the leap into the DJ world and bought his first turntables. At first, just playing for friends at local coffee shops, Sam found he was in love with his new hobby.
The forces of the post 9-11 economy struck at Sam once again in 2002, when he was laid off from an account executive position at Sprint. Fortunately for thousands of party goers, this was the catalyst that brought about the greatest change in Sam's life. He decided to start his own mobile DJ service. Founding House Entertainment and creating his own website at http://djsamhouse.com.
Sam's new weekend warrior lifestyle went together nicely with an admittance into UCLA. There Sam studies linguistics with the hope of possibly attending law school after completing his B.A. in the Spring. Focusing on universal properties of language, Sam has had the opportunity to study French, Japanese, Arabic, and even Ancient Egyptian.
With all of this education in the works the next logical question for most would be, "So, what do you plan to do with your degree?" This is a question that Sam often answers when asked by the people he meets. His response, "Keep DJ-ing, because I love what I do!" It is that love for what he does that has allowed him to continue with his education and start his family. Now, with less than a year to go until he obtains his undergraduate degree, he finds himself realizing that college will have ended up being just for personal development, since DJ-ing will always be his passion.
Los Angeles DJ Sam House also publishes pictures and reviews of his events at his blog. http://djsamhouse.wordpress.com by subscribing you can receive updates and never miss a beat. If you are planning an event you can receive an instant online quote at http://djsamhouse.com/quote.html.
About House Entertainment:
Los Angeles DJ Sam House is a Professional DJ & MC with years of Experience creating Fun Parties. State-of-the-Art Equipment, a Pleasing and Cooperative Personality, Extensive Music Library, Reliability, Enthusiasm, and Personal Attention all come standard with his Quality Service.
Contact:

Sam House, director of public relations
House Entertainment

310-948-2999
Contact Us
###