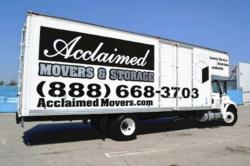 Acclaimed Movers and Storage, the nation's premier, luxury moving company, has just expanded their relocation services to include piano moving
Los Angeles, CA (PRWEB) September 21, 2012
Acclaimed Movers and Storage, the nation's premier, luxury moving company, has just expanded their relocation services to include piano moving of all shapes and sizes. As they actively work and evolve to remain the nation's best, Acclaimed has climbed the last hurdle by adding transportation of the large instruments. Vertical pianos, horizontal pianos, no matter the size they will expertly transport them to your new address. Acclaimed Movers now handle all types of items, literally. With an "A" rating from the better business bureau, years of experience worldwide, and a comprehensive moving repertoire, Acclaimed can lay claim to the title of, best in the business.
As a full-service, fully comprehensive moving company, Acclaimed handles residential, commercial, local, national, and international moves. They take care of each move on an individual basis, personalizing the transition, and guiding the client with the aid of skilled moving consultants. Their team of relocation specialists has been extensively trained in how to properly wrap, pack, and move any item. They're also trained in how to safely and securely break down furniture, now including pianos, to store it safely during any transition. Furthermore Acclaimed uses an ever growing fleet of top-of-the-line trucks, featuring GPS, as well as, industry protection standards setting packing materials. If storage is necessary, they have an enormous, climate-controlled, secure storage facility; featuring 24 hour surveillance and a temperature control system that protects personal effects.
Acclaimed Movers and Storage continues to progressively develop, striving to make each transition effortless and relaxing for the client. It's their goal to define professionalism and reliability in the moving industry. With every relocation, Acclaimed further refines their craft and develops lasting relationships with the people they help. When looking to make a move, give Acclaimed a call for a free no-obligation quote. We'll get you moving. (888) 668-3703.