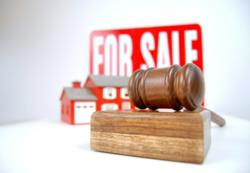 Los Angeles, CA (PRWEB) September 01, 2012
Los Angeles real estate auctions are not for the faint of heart. Too many novices get burned in these auctions because they are not fully aware of all the risks. Red Blue Realty highly recommends that bidders consider these 5 common risks, hazards and pitfalls before jumping into the auction fray.
Deposit
First things first, almost all real estate auctions require a 5-10% non-refundable deposit from the highest bidder. If the winner is not able to finance the property in time, which is usually 30-45 days, then they will lose their deposit. To avoid this scenario, it's crucial to have all financing in order before stepping foot into any real estate auction.
Title
When researching Los Angeles homes for sale at auction, many first-time auction buyers make the terrible mistake of not performing a thorough title search on their properties of interest. There is no title insurance for real estate auctions, and those who put a house up for auction are often not clear about any past liens or encumbrances on the property. It is the responsibility of the bidder to perform a title report so that they don't get stuck paying for past-due taxes, contractor liens, and so on.
Inspections
Another risk with these auctions is that the bidder has little or no opportunity to inspect the property itself. There's a reason that all of this Los Angeles real estate is up for auction, and it's usually because someone could no longer pay for it. Chances are if someone couldn't pay their mortgage, they also couldn't afford to maintain the home. Many of these properties are in dire need of repair, but that won't be apparent to the bidder, especially if they haven't even stepped foot in the home.
Auction Fatigue, Auction Fever
The only thing more important than working out how much to pay is sticking to that maximum amount. After all, the whole point of going to the auction is to get a great deal; it doesn't make sense to pay more for an auction house than the typical Los Angeles homes for sale. And yet, this is exactly what happens to many investors: Either they get worn out and disheartened over time, or they get heated and pay more than they ever intended. For the sake of the investment, it's crucial to avoid both of these pitfalls.
Deal Falls Through
By far the worst auction pitfall is to make it to the end, just to have the bank refuse the winning bid. Unless explicitly advertised as an absolute auction, the seller is allowed to reject a bid if it doesn't meet a minimum reservation price. Therefore, it's highly recommended that bidders completely understand the terms and conditions of the auction beforehand to avoid unnecessary heartache.
Don't go into an auction blind. Contact Red Blue Realty today for superior representation by the perfect Los Angeles real estate agent.
Website: RedBlueRealty.com
Email: Contact(at)redbluerealty(dot)com
Phone Number: 1 - (855) 66-RBREALTY or 1- (855) 667-2732
Get social with Red Blue Realty on Facebook and Twitter!