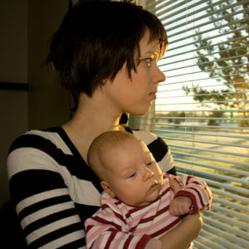 Depressed mothers experience a vicious cycle: the more sleep-deprived she becomes, the more depressed she is. In turn, the infant will suffer consequences
Los Angeles, CA (PRWEB) July 18, 2012
New research shows that depressed mothers are more likely to wake their sleeping infants than non-depressed mothers. Whether they are seeking out their babies at nighttime due to excessive concern for the child or their own emotional comfort, depressed mothers are more likely to wake a sleeping baby.
"The sleep problems depressed mothers experience can upset child development when they wake their babies at night," Dr. Naim at the Los Angeles Sleep Study Institute said. "One way to curb this problem is for depressed mothers to educate themselves on how this can have detrimental effects to their children."
A new study published in Child Development led by Douglas Teti, a professor of human development, psychology and pediatrics at Penn State University, followed 45 mothers and their babies, aged one month to 2 years old over a week-long period. The mothers completed a survey and questionnaire assessing their level of depression, and it was determined that 14 of the mothers were clinically depressed. All mothers were asked to keep a diary with details of their infant's sleep patterns, and on the final day of the study, were recorded during their nighttime interactions with their babies.
While the non-depressed mothers only sought out their babies when they cried or sounded distressed, the depressed mothers would pick up their babies at the slightest whimper or even when the babies were sound asleep, regardless of whether intervention was necessary. The reason for waking the babies stemmed mostly from concerns over whether the babies were hungry, thirsty or uncomfortable.
The link between depressed mothers and troubled infant sleep is not a new revelation to sleep experts. However, the thought was that the infants' sleep patterns were worsened by the mothers' mental health problems, not that the mother herself played the larger part of the problem.
Depressed mothers experience a vicious cycle: the more sleep-deprived the mother becomes, the more depressed she is. In turn, the infant will suffer consequences such as not bonding with the mother, as well as experience a negative emotional and behavioral impact.
"Tired infants and tired parents can make for challenging parent-infant interactions," Teti said. "The study we have underway is examining the impact of poor infant and poor parent sleep on the developing infant-parent relationship, and early findings suggest that parents whose sleep is disrupted by frequent infant night waking experience more difficulties in parenting."
Teti's research proves that most non-depressed mothers implement a calming bedtime routine for their babies and disregard their non-distressed vocalizations. On the other hand, depressed mothers display much more inconsistency in nighttime interactions. Depressed mothers were more likely to go check on their sleeping babies, whether it was needed or not.
"Estimates of sleep problems in infancy range from 20 percent to 35 percent, and there does appear to be some stability in sleep problems from infancy to later childhood," Teti said. "Sleep problems in the preschool period and later are associated with child behavior problems and attention difficulties during the day."
Those in the Los Angeles area who and want to learn more about depressed mothers and their infants, can visit the Los Angeles Sleep Study Institute website at http://www.sleepstudyla.com or call 818-343-1569 for more information.