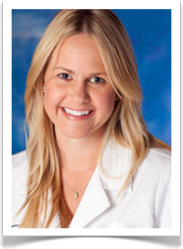 My training has provided me with the information and exposure to all the most current and advanced medicine we can provide in the veterinary world
Los Angeles, California (PRWEB) January 17, 2013
There is now another reason to rely on the expertise of Dr. Mickila Collins. One of the staff veterinarians at Animal Specialty Group (ASG) of Southern California, Dr. Collins recently earned board certification from the American College of Veterinary Internal Medicine (ACVIM). She is now among a team of doctors who have attained this pivotal credential. ASG is a referral veterinary hospital housing 31 veterinarians under one roof, focusing on seven specialties: Surgery, Internal Medicine, Emergency/Critical Care, Diagnostic Imaging, Oncology, Neurology, and Rehab/Alternative Medicine.
"My training has provided me with the information and exposure to all the most current and advanced medicine we can provide in the veterinary world," says Dr. Collins, in regards to board certification enhancing her role as an Internal Medicine specialist.
Dr. Collins received her Doctor of Veterinary Medicine degree from Ross University in 2005, completing her clinical year at Louisiana State University. Upon graduation, Dr. Collins then completed a one-year rotating internship as well as an internal medicine internship at ASG. She also went on to complete a three-year residency program at Gulf Coast Veterinary Specialists (GCVS) in Houston, Texas, where she trained extensively in minimally invasive procedures. This included endoscopy, bronchoscopy, and cystoscopy.
As long as she can remember, Dr. Collins always wanted to be a veterinarian; and the concentration of Internal Medicine allows her to enjoy the relations that she has built with both her patients and clients. "Because we are often managing more chronic diseases I see my patients frequently," says Dr. Collins. "A large part of our job as internists is communicating with our clients. Guiding owners through the management of their pet's chronic illness can be challenging, but being able to work with dedicated, loving pet owners and our wonderful patients makes it rewarding!" Dr. Collins' main areas of interest, include: gastroenterology, endocrinology, and respiratory disorders.
In addition to valuing the importance of board certification, Dr. Collins strongly believes in continuing education and expanding one's knowledge in his or her field. "I have committed to continuing my education via attending lectures, updating myself on all the current literature, and interacting with my colleagues," says Dr. Collins, who is heavily involved in Pit Bull education and rescue, and has authored multiple articles and contributed to lectures and presentations. "I am certainly going to keep learning!"
Proud to be a veterinary specialist at ASG, Dr. Collins enjoys working amongst a staff of dedicated medical professionals. "We all work together here at ASG, starting at the referral process all the way to recovery. Interdepartmental communication is key to making sure our patients are getting the best treatment possible," she says. "I believe we practice high quality medicine and we are a very compassionate and motivated group of individuals."
By appointment, Dr. Collins is available to meet with patients during her working hours at ASG; Sunday, Monday, and Tuesday, from 9 a.m. to 6 p.m.
About Animal Specialty Group:
Animal Specialty Group (ASG) is one of the first multidisciplinary veterinary hospitals of Southern California. ASG currently houses 31 veterinarians under one roof, focusing on: Surgery, Internal Medicine, Emergency/Critical Care, Diagnostic Imaging, Oncology, Neurology, and Rehab/Alternative Medicine. ASG is a referral hospital with 24/hour emergency facility available to the public. The office can be reached by calling (818) 244-7977 or visit http://www.asgvets.com.