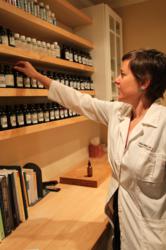 Acupuncture and Chinese herbal medicine are key tools for reaching and maintaining wellness, without side effects or negative environmental impact.
Los Angeles, CA (PRWEB) April 11, 2012
Los Angeles acupuncturist Kristin Ebbert, L.Ac., is celebrating five years in private practice at her Larchmont Village clinic. She specializes in treating women's health issues, stress, and chronic pain, and prescribes Chinese medicine from a comprehensive herbal pharmacy. Her goal is to offer medicine that is safe, effective and takes an individual approach.
As Managing Editor of the award-winning "Green Guide" consumer newsletter from 1992-2000 (now National Geographic's Green Guide), Kristin researched and wrote articles about environmental issues and how they impact our health. She started investigating alternative medicine and found acupuncture to be a nontoxic, well-researched and gentle therapy growing in popularity.
"Acupuncture and Chinese herbal medicine are key tools for reaching and maintaining wellness, without side effects or negative environmental impact," says Ebbert. In addition, the Master's degree requirement and licensure of acupuncturists in California, where she lives, is rigorous and that appealed to her.
Indeed, acupuncture is among the top alternative therapies now used in the U.S., as reported by Stanford School of Medicine. Kristin explains why alternative therapies like acupuncture are becoming so popular: "Western medicine is great for certain things like diagnostic tests, surgeries and emergencies, but it emphasizes narrow symptoms while ignoring the whole individual, and relies on too many pharmaceuticals in my opinion. Acupuncture and Chinese herbs are better complements to Western diagnostics."
What makes Kristin Ebbert different from other acupuncturists in Los Angeles? She says, "I spend extra time with my patients, which can be a nice surprise to people who are used to being rushed through their physician's office. I'm a good listener and can help figure out complex medical histories."
The Ebbert Acupuncture clinic is located in a newly renovated bungalow on Larchmont Blvd between Beverly and Melrose. Larchmont Village is a quaint shopping district in the center of busy Los Angeles. Kristin Ebbert notes, "Many of my patients visit and enjoy the sidewalk cafes here before or after their acupuncture treatments. It's a wonderful neighborhood in which to practice this type of alternative medicine — pedestrian-friendly with big trees, healthy restaurants and a weekly farmers market."
Her favorite moment in acupuncture to date? Getting referrals from current patients. "I know they have the confidence in me and have improved their health to such an extent that they want their friends, family and co-workers to gain the benefits of acupuncture, too."
At her website, http://www.EbbertAcupuncture.com, prospective patients can email the acupuncturist directly for a free, 10-minute phone consultation to see if acupuncture is right for them. In addition, Kristin writes a monthly blog (http://blog.ebbertacupuncture.com) with easy and well-researched holistic health tips and links to the latest research on acupuncture's effectiveness.
###