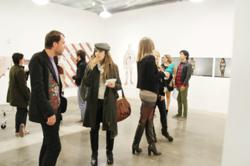 This facility represents a major enhancement to the education we provide to our graduate students.
Los Angeles, CA (PRWEB) December 19, 2012
Otis College of Art and Design has expanded its facilities by opening new graduate studios in Culver City, Los Angeles' premier arts district. The space at 10455 Jefferson Boulevard includes artists' studios, administrative offices, a computer lab, and two large public spaces, which will host artists in residence, public exhibitions and lectures, and open studio events. The Culver City Art District, generally defined as the section of Washington Boulevard between Helms Avenue and Fairfax Avenue, boasts over 30 galleries exhibiting new and distinguished artists. "We look forward to joining the Culver City arts community as a vital new member," says Roy Dowell, Chair of Otis Graduate Fine Arts. "This facility represents a major enhancement to the education we provide to our graduate students. This new space inspires students to create outstanding work and encourages them to connect with the community where they can engage publicly." Each of the Graduate Fine Arts and Graduate Public Practice students has a private studio space.
Among the Culver City galleries are several owned by Otis alumni, including Eleana del Rio of Koplin del Rio and Erin Kermanikian of Western Projects. Graduate Public Practice faculty member Andrea Bowers and alumnus and Guggenheim Fellow Ruben Ochoa show their work at Susanne Vielmetter L.A. Projects; faculty member Soo Kim is represented by Angles Gallery, and Masami Teraoka shows his work at Samuel Freeman Gallery.
Public Practice, under the leadership of Suzanne Lacy, renowned artist, educator, theorist of socially engaged public art and author, prepares students to re-invent traditional media-specific ways of thinking about art making. Los Angeles--global center of public practices by artists and collaborative groups--is its dynamic setting. Students engage this vast human and spatial geography as emerging professionals. Entering students design a unique educational plan to fit their interests, in both community and studio contexts. Public practice – also called participatory art, community art, public art, situational art or social sculpture – consists of a variety of media including video, performance, drawing, photography, sculpture and web-based projects.
Graduate Fine Arts students develop a "personal vision" that has been filtered through history, gender, sexuality, culture, and politics. Graduate Fine Arts students acquire the necessary technical and theoretical resources to develop an understanding of the demands of a professional practice. The program promotes strong interaction and critical dialogue among all participants, encouraging students to converse in the language of art. Students produce work that reflects their ideas, needs and ambitions, as well as the challenges of the artistic environment and contemporary issues and concerns. (Among Otis MFA alumni are Alison Saar, Masami Teraoka, Kent Twitchell, and Bruce Yonemoto.
About Otis College of Art and Design
Founded in Los Angeles in 1918, Otis College of Art and Design prepares diverse students of art and design to enrich the world through their creativity, their skill, and their vision. The College offers an interdisciplinary education for 1200 full-time students, awarding BFA degrees in Advertising, Architecture/Landscape/Interiors, Digital Media, Fashion Design, Illustration, Graphic Design, Product Design, Painting, Photography, Sculpture/New Genres, and Toy Design; and MFA degrees in Fine Arts, Graphic Design, Public Practice, and Writing. Continuing Education offers certificate programs as well as personal and professional development courses. Additional information is available at http://www.otis.edu.