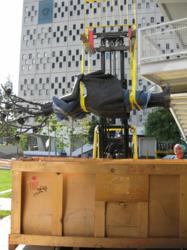 Four stylized glass "stills" express the personal and political challenges of being an artist, woman, and mother in the twenty-first century.
Los Angeles, CA (PRWEB) August 22, 2012
The Ben Maltz Gallery continues to present and document new work by artists in Southern California with the solo exhibition STILL . . . by Otis alumna Alison Saar (MFA '81).
Informed by artistic traditions from the Americas to Africa and beyond, and by her mixed racial upbringing, Alison Saar's work is infused with a powerful visual and kinesthetic tension. She creates paradoxical responses to the black-and-white delineations of political and social forces. Using the history and associations of her materials, everyday experience, African art and ritual, Greek mythology, and the stark sculptural tradition of German Expressionism, she develops a primal intensity that challenges cultural and historic references and stereotypes.
Four stylized glass "stills" express the personal and political challenges of being an artist, woman, and mother in the twenty-first century. These works distill the vile essence of bigotry, and transform it into consciousness. Only through awareness and informed mindfulness can negative representations be dispelled and converted into positive reflections.
A mature and significant artist, Saar is a sculptor who has achieved broad recognition for her studio and public art throughout the country. Her work is held in many collections including the Museum of Modern Art, Hirshhorn Museum and Sculpture Garden, and Metropolitan Museum of Art; and she has major public art works in Los Angeles, New York, and Chicago. She has received numerous prestigious awards including a Guggenheim Fellowship, Anonymous Was a Woman, and National Endowment for the Arts.
The forthcoming catalog, Alison Saar: STILL . . . (October, 2012), features an introduction by Meg Linton, Curator of the Exhibition and Otis Director of Galleries and Exhibitions; an essay by Dr. Barbara Thompson and Phyllis Wattis, Curator of the Arts of Africa and the Americas at the Cantor Art Center, Stanford University, and full-color reproductions of the work and installation.
This exhibition is funded in part by Contemporary Collectors, Orange County. Special thanks go to Decker Studios, L.A. Louver, John David O'Brien, and Otis Continuing Education, and Otis Alumni Relations.
EVENTS IN CONJUNCTION WITH THE EXHIBITION:
PUBLIC RECEPTION
Saturday, September 15, 4 a.m. - 6 p.m., Admission Free
Meet Alison Saar and enjoy live music
OTIS ALUMNI GALLERY & STUSIO TOUR
Saturday, September 15, 10 a.m. - 4 p.m., $25
Otis Alumna Alison Saar tours her exhibition STILL . . . in the Ben Maltz Gallery followed by lunch and a bus tour to local Otis alumni studios and galleries. (Reg # 35449, $25 Non-credit)*
CONVERSATION WITH ALISON SAAR AND SARAH LEWIS
Sunday, November 4, 2 p.m., Admission Free
(Reg # 35450, Free non-credit)*
Scholar, writer, and curator Sarah Lewis is currently finishing her book, RISE, a book that draws on her work in the arts and expands into sports, business, psychology, sociology, and science.  Selected for Oprah's 2010 "Power List," and included as a member of President Obama's Arts Policy Committee, her writing has been published widely. Her Yale dissertation on Frederick Douglass, The Circassian Beauties and American Racial Formation, is now under contract with Harvard University Press (2014 release). She has been an active curator, holding positions at both the Tate Modern and the Museum of Modern Art. She was also selected to be the Co-Curator of the 2010 SITE Santa Fe Biennial.  She is currently curating the art for the Barclays Center while finishing her manuscripts.  Sarah sits on the boards of the Harvard University Alumni Association, the CUNY Graduate Center, the Andy Warhol Foundation for the Visual Arts, and the Brearley School, and she is on the Art Advisory Committee of Madison Square Park.  She received a B.A. from Harvard University, magna cum laude, an M.Phil. from Oxford University with Distinction as a British Marshall Scholar, and will receive a Ph.D. from Yale University in 2012.  She is on faculty at Yale University, School of Art in the M.F.A. program.

The bus tour and conversation are organized in partnership with Otis Continuing Education. Reservations for these two programs are required. To register, or for more information, please contact otisce(at)otis(dot)edu, call 310-665-6850, or visit http://www.otis.edu/ce.
LOCATION: Otis College of Art and Design, 9045 Lincoln Blvd, Los Angeles, CA 90045 Parking & Admission: Free. Visitor parking in structure on La Tijera.
Hours: Tue-Sat 10a.m.-5p.m. / Thu 10a.m.-7p.m. Closed Sunday, Monday
Gallery Tours: 310-665-6909 to schedule tours for school, museum or other groups
Gallery Info: 310-665-6905, galleryinfo(at)otis(dot)edu, http://www.otis.edu/benmaltzgallery
ABOUT OTIS: Founded in Los Angeles in 1918, Otis College of Art and Design prepares diverse students of art and design to enrich the world through their creativity, their skill, and their vision. The College offers an interdisciplinary education for 1200 full-time students, awarding BFA degrees in Advertising, Architecture/Landscape/Interiors, Digital Media, Fashion Design, Illustration, Graphic Design, Product Design, Painting, Photography, Sculpture/New Genres, and Toy Design; and MFA degrees in Fine Arts, Graphic Design, Public Practice, and Writing. Continuing Education offers certificate programs as well as personal and professional development courses. Additional information is available at http://www.otis.edu.