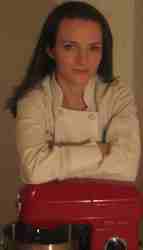 Seeing the presentation, tasting it, everything is really dead on. Great flavors!
Santa Monica, CA (PRWEB) August 30, 2008
Executive Chef Elizabeth Todd Goel of Bite Catering Couture led one of four teams on Food Network Challenge: Big Bash Caterers, which premiered Sunday, August 24th on Food Network, competing for a $10,000 prize.
Executive Chef Elizabeth Goel placed 2nd in a tight competition with veteran chefs of the catering industry. The margin of victory was a razor-thin 0.6 points of 100. The competition featured 4 teams of caterers feeding 75 guests in a party for the Colorado Ballet.
Chef Elizabeth brought a menu appropriate to a ballet, featuring a number of Bite Catering Couture's signature miniature catered foods: creole crab cakes, caprese salad skewers, Nutcracker cones, and Nutcracker "Sweet" (espresso chocolate bonbons and caramel nut pie). Guests referred to the combination as "Food on point."
"The (caprese salad skewer) is a little work of art. It's delicate, like a ballerina. So its really appealing," commented judge Lisa Snider, Executive Director of the Colorado Ballet.
Judge Chris Siversen, Executive Chef of Bridgewaters summarized, "Seeing the presentation, tasting it, everything is really dead on. Great flavors!"
Bite Catering Couture was honored to have our Executive Chef and signature bites in competition against some of the best caterers in the country. As a new Los Angeles catering company, we look forward to introducing our unique, stylish approach to high-quality catered foods for weddings, special events, and parties in Los Angeles.
Food Network Challenge airs Sundays at 8pm ET/PT. For more information, additional air times and contest recipes, please visit FoodNetwork.com
Please visit Bite Catering Couture of Los Angeles at http://www.bitecatering.net for pictures, sample menus, client reviews, recipes, and more. Bite Catering Couture is a premier caterer in Los Angeles with a signature line of bite-sized miniature foods in addition to full-service catering. Our approach to parties, weddings, and special events is to bring a tasting menu of Bites, allowing guests a greater variety of flavors and the opportunity to participate in more conversations than a sit-down only event.
For more information, press only, please contact:
Vijay Goel, 310-492-5601
For more information on Bite Catering Couture: http://www.bitecatering.net
###