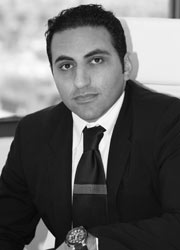 Beverly Hills, CA (PRWEB) July 01, 2011
Personal injury lawyer Kevin Danesh of the California personal injury law firm of Banafsheh, Danesh & Javid, P.C., says a new report that California leads the nation in dog bite claims indicates that parents should be especially alert when their children are around dogs.
State Farm Insurance said that among almost 5 million people bitten or attacked by dogs in the U.S. in 2010, Californians filed 369 dog bite claims, resulting in more than $11 million in payments. There were also seven dog bite fatalities in California last year, the insurance firm said.
State Farm also said that children make up more than 60 percent of all dog bite victims.
"Dog bites can be vicious, painful and injurious incidents that cause long-term suffering and even death," said Danesh, an experienced Los Angeles personal injury attorney and co-founder of Banafsheh, Danesh & Javid. "Victims of these attacks have rights that must be protected to ensure their suffering is not compounded by medical expenses and lost wages on top of physical and mental pain."
Danesh said a dog bite victim should seek the assistance of an attorney experienced in dog bite cases to establish the dog owner's liability. An attorney can help dog bite victims determine the dog owner's available insurance coverage.
"A dog bite is not something that just happens; it's a personal attack that is as unwarranted as any criminal assault visited upon a person," Danesh said. "If you've been attacked by a dog, the dog owner has responsibilities toward you. Their insurance company likely has a responsibility toward you."
State Farm's report called for responsible pet ownership and encouraged caution around all dogs, including family pets. Under the right circumstances, any dog may bite, the report stated.
"If you've been bitten by a dog, seek medical treatment if it is warranted, and report the bite to animal control officers or the police," Danesh said.
About Banafsheh, Danesh & Javid, P.C.
Banafsheh, Danesh & Javid, P.C., is a well-respected Beverly Hills, California personal injury law firm that represents accident and injury victims throughout Los Angeles County and surrounding areas, including Lancaster, Apple Valley, Bakersfield, Victorville, Oxnard, Antelope Valley, Palmdale, Hesperia, Del Monte, Porterville and Adelanto. The firm's California personal injury attorneys handle cases involving car accidents, motorcycle accidents, truck accidents, pedestrian injuries, brain injuries, wrongful death and other personal injury claims. The firm also features staff members who speak Spanish, Italian, Farsi and Hebrew, in addition to English. To learn more about the firm, call (800) 820-1111 or use its convenient online form.
###