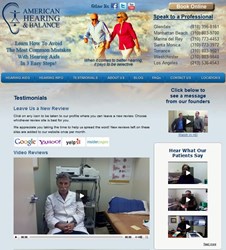 Los Angeles, CA (PRWEB) May 07, 2013
A new section has been published to the website of American Hearing & Balance to showcase hearing loss and hearing aid reviews in Los Angeles. The new section will showcase video testimonies and written reviews about hearing loss, hearing aids, tinnitus and various other issues that former and current patients have granted permission to be posted. As an alternative, the video testimonials may also be watched on YouTube. American Hearing & Balance has captured many former patient experiences on video for example this video from a Los Angeles hearing aids user needing a quick adjustment and being able to get a new hearing test and an adjustment to her hearing aid in less than 30 minutes to solve the problem.
Dr. Keith Michaels is very happy to present this new enhancement observing that it is extremely helpful for possible patients to be able to see themselves in the stories of other people. A great number of Americans have hearing problems and it truly is important for them to know that they aren't by themselves and that choices do exist. Reading the testimonies of other neighborhood residents on the brand new reviews page is first step toward building a feeling of community among people with hearing loss.
There are many completely different reasons for hearing problems, and guests on the website shouldn't attempt to diagnose themselves. Individuals that believe they have hearing loss or who are experiencing discomfort or ringing in the ears needs to be evaluated by a professional audiologist. Figuring out the underlying hearing loss cause generally starts with a hearing test and physical exam of the ears. The treatments that have worked for the other patients featured on our testimonials page, won't be appropriate in all cases.
About Dr. Keith Michaels
Dr. Keith Michaels, Doctor of Audiology and Hearing Instrument Specialist at American Hearing & Balance, received his Masters Degree from California State University, Los Angeles and his Doctorate in Audiology at Florida University. Dr. Michaels has helped fit thousands of people with hearing aids and loves to work with people who have problems with their balance and/or vertigo.
About American Hearing & Balance:
American Hearing & Balance is a family owned business providing superior hearing healthcare services in Los Angeles and surrounding communities with seven offices in Los Angeles, Manhattan Beach, Santa Monica, Marina del Rey, Westchester, Torrance and Glendale. They offer a full range of diagnostic and preventative hearing healthcare professional services, including hearing tests, hearing aid sales, and rehabilitative and counseling services for those with hearing loss. Additionally, American Hearing & Balance stocks all the most common hearing aid accessories including cleaning supplies, hearing aid batteries and cell phone adapters. American Hearing & Balance is dedicated to keeping abreast of the latest improvements and technological advancements in the hearing industry and is committed to offering the most current options to patients.
Contact:
Dr. Keith Michaels
http://americanhearingbalance.com
American Hearing & Balance
3875 Wilshire Blvd, Suite 302
Los Angeles, CA 90010
(213) 536-4543
American Hearing & Balance
2809 North Sepulveda Boulevard
Manhattan Beach, CA 90266
(310) 803-9700
American Hearing & Balance
1318 2nd Street, Suite 1
Santa Monica, CA 90401
(310) 773-3972
American Hearing & Balance
4640 Admiralty Way, Suite 1020
Marina del Rey, CA 90292
(310) 773-4453
American Hearing & Balance
6229 West 87th Street
Westchester, CA 90045
(310) 803-9848
American Hearing & Balance
20911 Earl Street, #470
Torrance, CA 90503
(310) 803-9501
American Hearing & Balance
633 North Central Avenue
Glendale, CA 91203
(818) 396-8161