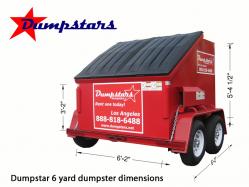 The dumpsters are convenient and better for the environment.
Los Angeles, CA (PRWEB) May 07, 2011
Dumpstars Dumpsters today announced the launch of their new operation, serving the Los Angeles metropolitan region. The company provides a product that can be rented for trash and junk removal, contractor debris removal, post party trash removal, spring cleaning, yard waste removal ,and any other kind of trash removal a traditional dumpster offers. But there's one big difference. Their mobile dumpsters are mounted on top of trailers, which has numerous advantages.
"The dumpsters are convenient and better for the environment," points out owner Bobby Miller. "For the customer, they're easy to back up and store in the driveway."
Traditional dumpsters are lifted by heavy vehicles despite the fact that a considerable number of dumpsters are filled with light waste. By mounting a front-lift dumpster on a trailer, conventional cars and pick-ups can be used to tow the dumpsters using much less gas than large trucks ordinarily used to haul dumpster bins. With today's high price of gas, savings are impressive and passed to the customer. The end result: dumpsters cost less to rent and reduce greenhouse gas pollution as well.
Other advantages: The mobile dumpsters can be moved around or between worksites, meaning the dumpster can be moved to the trash, rather than having to move the trash to the dumpster; the dumpsters are road-registered, which means they generally do not require a permit; and the dumpsters have lockable lids that stop unauthorized filling.
Dumpstars Dumpsters was established in Australia five years ago, and is making its debut in America. Bobby moved to Los Angeles eight months ago to get the business started, which now serves all the suburbs and surrounding cities in Los Angeles County. Bobby is happy he made the move.
"I like working for myself and being outdoors and not in a suit at a desk," he says with an Australian accent. "Also you meet quite a wide range of interesting people. I enjoy that."
If you're interested in renting a Dumpstars dumpster or starting your own franchise, visit them on the web at http://www.dumpstars.net.
About Dumpstars Dumpsters
Dumpstars Dumpsters rents their unique dumpsters tor trash, junk, and debris removal and serves the Los Angeles area. Their philosophy is to use creative and innovative methods to reduce the cost and energy expenditure in the waste, storage, and transport industries. They offer competitively priced and environmentally responsible solutions. To learn more, visit their profile on Buildzoom at http://www.buildzoom.com/contractor/dumpstars-dumpsters.
###