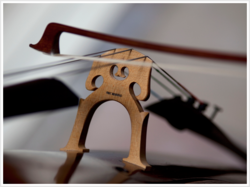 We hope that those who visit our web site will get a sense of some of the joy and warmth and magic that our customers tell us they appreciate about our brick and mortar violin shop. As much as it can, our new web site captures that.
Los Angeles, CA (PRWEB) May 09, 2012
Distinguished Los Angeles violin shop, Benning Violins, has announced the release of its new, artistic and technologically advanced web site. According to its resident master luthier and violinmaker, the Studio City-based-Benning Violins' web site goes live on May 10, 2012 and "will better capture our old world approach to instrument making and service while embracing today's stunning web site technologies."
"In the arena of master-crafted instruments, it's become vital to have a strong Internet presence in order to reach what has become an International audience for these instruments," states violinmaker Eric Benning. "Performers search far and wide looking for the perfect instrument and when they find your web site, the entire presentation has to be provocative to better make your case. I believe we accomplished that."
Developed by BrightBulb Solutions, a boutique Internet marketing firm based in Los Angeles, the web site features a custom state-of-the-art instrument catalog featuring descriptions and photos of high-end violins, violas and cellos crafted by Benning himself, as well as by many other recognized names including Balestrieri, Gagliano, Bergonzi and Galimberti.
An account of the violin shop's fascinating and rich history is included with enhanced period photos, a gallery that captures the shop's old world feel and a stunning section of biographies and photos of those "premier players, concert performers and recording artists" who play on instruments made by Benning and his father, Hans.
The web site further highlights the service offerings that have made Benning Violins – formerly known as Studio City Music – an established and renowned institution in the classical music scene of Southern California. The shop, which once maintained the Guarnerius violin owned and played by Jascha Heifetz during his magnificent career, offers sales of all levels of instruments, accessories, performs restorations, repairs and appraisals, accepts consignment sales and offers a finance and rental program.
Eric Benning, himself an acclaimed master violinmaker who specializes in crafting violins based on Stradivarius and Guarnerius models, states that while the Benning family is proud of their new web site, "it is much more high-tech than we are."
"Our shop is old school in every way, from the tools we use in the trade to our old-school approach to personal and expert service," said Benning. "Though we have prided ourselves on our stubborn low-tech tradition, we recognize the advantage of competing in the online marketplace today. We hope that those who visit our web site will get a sense of some of the joy and warmth and magic that our customers tell us they appreciate about our brick and mortar shop. As much as it can, our new web site captures that."