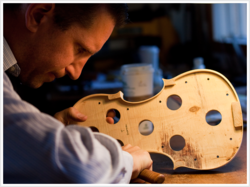 A label identifying an instrument as a Stradivarius is meant to identify the model of the actual Stradivarius the lower-cost violin is modeled after. They were not intended to fake out people who find them.
Los Angeles, CA (PRWEB) October 11, 2012
Renowned Los Angeles violin shop, Benning Violins, is featured on Arts & Entertainment's popular reality show "Storage Wars". The shop, a mainstay West Coast institution providing repair service and sales of fine violins, violas, cellos and bows to the classical music scene of Southern California as well as internationally through their web site, served as a backdrop to a well-watched dramatic episode of the show's second season.
A&E Entertainment has recently released the show's popular second season to DVD and instant download release. In episode 11, titled "Almost the Greatest Show on Earth" cast member Dave Hester, owner of Rags to Riches thrift store in Costa Mesa, bids on an abandoned storage locker and discovers an old violin with a label of Antonius Stradivarius, the most famous violin maker who in the 1700's crafted master instruments that have sold for up to $15 million dollars at auction and are owned and played by some of the world's greatest performers.
According to Eric Benning, resident master violinmaker and luthier, appearing on the show "was a pleasant surprise." "We got a call from the producers," said Benning. "They explained that a violin had been found with a Stradivarius label and wanted us to authenticate it. Coincidentally, we happened to have a Strad in our shop that very day. That alone added to the drama."
The producers had identified Benning Violins as "probably the best violin appraisal place in the country" and sent their production team to set up in advance of Hester's arrival with the violin. Unfortunately for Hester, Eric quickly identifies the violin as a three-quarter-size student violin "that will always be in the inexpensive range." When Hester seeks a second opinion from Hans Benning, Eric's father and himself an accomplished violinmaker, Hans confirms Eric's assessment while Hester explains he was hoping the violin would lead to his retirement and concludes "all I have is the tired part and not the retired part."
"Whether it's in old attics or storage lockers, people often find old violins in varying condition with a Stradivarius label," explains the younger Benning. "It's extremely rare that they will turn out to be genuine. A label identifying an instrument as a Strad is meant to identify the model of the actual Stradivarius the lower-cost violin is modeled after. They were not intended to fake out people who find them, even though that's what typically happens."