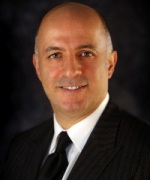 Los Angeles, CA (PRWEB) January 11, 2012
Dr. Bijan Afar, Los Angeles dentist, announces a special discount on Invisalign dental alignment system. For a limited time, new patients can receive $500 off the total cost of Invisalign treatment at Wilshire Dental Care.
Dr. Afar, dentist in Los Angeles, offers a variety of dental services, including orthodontics. Dr. Afar graduated from the UCLA School of Dentistry and has offered a variety of dental treatments in the Los Angeles area for many years. Besides Invisalign, Dr. Afar offers restorative dentistry, including dental crowns and bridges, preventative care, and dental veneers.
Invisalign is a special type of orthodontic treatment which differs from traditional metal braces in several ways.
Usually cosmetic dentists in Los Angeles approach teeth straightening as a project which involves many years of treatment. With Invisalign, however, superior results can often be obtained in a much shorter time, and with much less discomfort and cost than metal braces usually entail.
Metal braces are a "tried and true" method of orthodontic treatment, and many dentists turn to them immediately as a way to bring teeth into alignment. No doubt, metal braces work well; however, the attendant discomfort and embarrassment associated with them sometimes drives patients away from needed orthodontic work.
With Invisalign aligners, however, many of the problems of metal braces are resolved. Invisalign is comfortable and will not snag on gums or lips like metal braces. These smooth plastic trays fit the teeth perfectly, and exert gentle pressure to bring them into alignment. Best of all, Invisalign is totally invisible in the mouth, eliminating the problem of embarrassment which so many people experience with metal braces. Invisalign is especially popular with younger patients, who do not want the stigma of metal braces but who want a beautiful, straight smile. The Invisalign system offers the best of both worlds—a beautiful smile without the inherent disadvantages of braces.
Dr. Afar wants his patients to be able to have their teeth straightened at an affordable cost, and using the best technology available. With this special $500 offer, more patients will be able to enjoy the benefits of the Invisalign system.
Contact Dr. Afar, Los Angeles Cosmetic Dentist
For more information about this special offer, call (310) 775-2979 or visit http://www.wilshiredentalcare.com. Wilshire Dental Care is located at 6200 Wilshire Blvd, Suite 1508 in Los Angeles, CA 90048.
PR by http://www.seocompanyca.com.
###