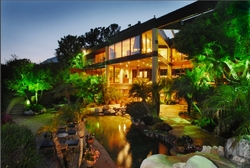 Los Angeles, CA (PRWEB) December 29, 2008
EstateHomesLA.com is specifically designed to showcase the wide range of possibilities that are available in the Los Angeles, CA luxury real estate market, with a focus on the higher end neighborhoods of Brentwood, Bel Air, Beverly Hills, Malibu and Pacific Palisdades. Visitors are most certainly welcome and encouraged to take full advantage of the free and user-friendly MLS Property Search feature, as well as my many other useful tools on the site, such as mortgage calculators, the latest interest rates, featured properties & company info, local maps, images of the area, direct links to valuable resources and much, much more.
As an example, one can browse through the 'Areas' and click a city in the Los Angeles area such as 'Malibu'. There, visitors can find great photos from around town, information on city government, activities, current weather, and even local drive times to and from the specific areas. From here it is simple to find specific luxury properties for sale that meet your needs and requirements or see relevant homes that David has helped past clients sell in the area.
The website has tons of relevant information and area resources that cover the entire Los Angeles area, from Beverly Hills to Malibu, Santa Monica, Brentwood, Los Angeles, Bel Air, and even up to Ojai, just to name a few. For more details on how to get started exploring the Los Angeles luxury real estate market, please visit http://www.EstateHomesLA.com or call David Findley of Sotheby's International Realty at 310-345-6911.
About David Findley, GRI, CRS, ABR, e-Pro:
Named in 2008 as one of the Top 15 Real Estate Agents in the United States by The Wall Street Journal, David Findley is widely recognized as a dedicated professional, committed to serving his client's needs. The key to David Findley's service is his down-to-earth approach to engaging with people, and his commitment to handling each transaction as if he were the principal, consistently holding clients' best interests to heart. Working systematically on their behalf, David provides clients with potent representation and is an effective negotiator.
"His professionalism and genuine kindness really impressed us right off the bat. As it turned out, we were also in need of a real estate agent. David turned out to be the best real estate agent we have ever encountered. He worked hard trying to find just the right house for us, and the right buyer for our house. He went above and beyond the call of duty on everything he did. David does what he says he will do. That is a rare quality. We never had to worry about details… he always followed through. We had a few difficulties in the deals we were pursuing and David handled them with the utmost professionalism. We always felt like we were his only clients. We highly recommend David Findley for any real estate need you may have."
###