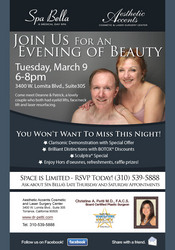 Torrance, CA (Vocus) March 6, 2010
The leader of a prominent practice offering skin rejuvenation treatments and plastic surgery in Los Angeles, Torrance, and the surrounding region, is giving residents an Evening of Beauty. Christine Petti, MD, a board-certified cosmetic plastic surgeon, is inviting people to join her for an event that is designed to help provide those considering non-surgical and surgical aesthetic enhancement procedures the opportunity to listen to real patient success stories, ask questions about procedures, discover some of the latest treatments, and earn discounts on some of the most popular cosmetic rejuvenation options available.
Dr. Petti's Evening of Beauty will be held at Aesthetic Accents Cosmetic & Laser Surgery Center on Tuesday, March 9th, 2010 from 6:00 to 8:00 p.m. at her practice on West Lomita Blvd. For individuals interested in face lift procedures, as well as laser skin resurfacing and eyelid lift surgery, the Evening of Beauty event will feature two of Dr. Petti's patients, a husband and wife, who will share their stories of success and talk about what can be expected from the process. Those who attend the event can also talk with Dr. Petti about the many cutting-edge treatments she offers, such as the Affirm CO2™ Laser Skin Renewal system and Smartlipo™ liposuction in the Los Angeles area.
Plus, a representative from Clarisonic® will conduct a demonstration of this new skin care treatment that can be performed at home. Clarisonic® is known for its effectiveness at rejuvenating the skin and reducing signs of age. Dr. Petti will also talk about cosmetic injectable treatments and specials she is offering on Sculptra® and BOTOX® Cosmetic injections.
Dr. Christine Petti says she is a female plastic surgeon who understands the desires of women who want to improve their appearance. She says she is often sought-after by women considering breast augmentation, and is particularly skilled with breast implant revision surgery in Los Angeles for patients who would like natural-looking results more in keeping with their original goals.
The Evening of Beauty, sponsored by Dr. Petti's Aesthetic Accents Cosmetic & Laser Surgery Center and Spa Bella Medical Day Spa, will include hors d'oeuvres, refreshments, and raffle prizes. Dr. Petti says space is limited, and those interested in attending the Evening of Beauty event can RSVP at (310) 539-5888.
About Dr. Christine Petti
Certified by the American Board of Plastic Surgery since 1990, Dr. Christine Petti has been practicing in the Torrance and Los Angeles area since 1988. Dr. Petti is a member of the American Society of Aesthetic Plastic Surgeons, the American Society of Plastic Surgeons, the American Medical Association, the California Medical Association, and is a Fellow of the American College of Surgeons. She completed her plastic surgery residency at the prestigious Pritzker School of Medicine at the University of Chicago, ultimately achieving the position of Chief Resident in Plastic Surgery. Dr. Petti currently serves as an Assistant Clinical Professor of Plastic Surgery at the University of Southern California, and has been published in a variety of respected medical journals in the U.S. and Canada. Her research on tumescent liposuction was recognized and presented at the annual meeting of the American Society of Plastic and Reconstructive Surgeons in 1998, and she has earned the honors of Top Doctor and Top Surgeon by national and local media. Dr. Petti's expertise has also been featured in several magazine publications and television shows, including Harper's Bazaar, Mademoiselle, The Doctors, and the Discovery Health Network.
Aesthetic Accents Cosmetic and Laser Surgery Center and Spa Bella Medical Day Spa can be reached at 3400 W. Lomita Blvd., Suites 307 and 305, Torrance, CA 90505 – (310) 539-5888, or via website at http://www.dr-petti.com.
###