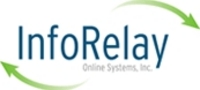 By completing the upgrades early, we've been able to meet customer demands for additional bandwidth, and turn up new customers without sacrificing network capacity or performance
Reston, VA and Los Angeles, CA (PRWEB) June 20, 2008
InfoRelay Online Systems, Inc., an IT solutions and connectivity provider, announced today that it has successfully completed a round of upgrades, increasing capacity in its Los Angeles, CA market and deploying its new "IAD3" facility in Reston, VA.
In order to increase capacity to its network in Los Angeles, InfoRelay has deployed a private dark fiber optic path between its "LAX1" facility at 600 W. 7th Street to its "LAX2" location at the One Wilshire building, located at 624 S. Grand Avenue in Los Angeles. This private fiber backbone provides InfoRelay with increased capacity at the One Wilshire building, and additional redundancy and capacity in both of its primary data centers in Los Angeles.
In Reston, InfoRelay has completed its expansion into its IAD3 facility, located within CRG West's Reston Exchange building. At this facility, multiple IP backbone networks are utilized to power InfoRelay's network. Fiber connecting this node to InfoRelay's location at 1275 K Street in DC further enhances redundancy and performance at each location.
InfoRelay has stated that both of these expansions were necessary in order to keep up with recent sales levels that it has sustained for its colocation, dedicated server, and bandwidth offerings. "Explosive growth of our client base at the One Wilshire facility in Los Angeles has caused us to expand our capacity in this market in order to continue to serve our existing clients as well as new clients," stated Russell Weiss, Vice President of Technical Services for InfoRelay. Speaking about the expansion into InfoRelay's "IAD3" facility in Reston, VA, Weiss further commented "Despite being a new facility, InfoRelay's IAD3 facility benefits from the extreme level of security and redundancy found within Reston Exchange."
Both the upgrade and expansion were set to happen by July 31, 2008, however InfoRelay has completed both tasks more than a month ahead of the intended schedule. "By completing the upgrades early, we've been able to meet customer demands for additional bandwidth, and turn up new customers without sacrificing network capacity or performance," stated Russell Weiss.
About InfoRelay Online Systems, Inc.
Founded in 1995, InfoRelay Online Systems, Inc. delivers enterprise-level managed services to businesses of all sizes. Utilizing seven data centers worldwide, InfoRelay serves over 100,000 clients through its main product lines and subsidiaries. InfoRelay's unrivaled network is powered by multiple Cisco routers, and boasts approximately 80 gigabits-per-second of network capacity. InfoRelay's staff and management combine decades of diverse experience in the fields of Information Technology, Storage, and Networking with today's best enterprise-level hardware and software technologies. Each enterprise-level client is assigned a dedicated Technical Account Manager and support team, allowing InfoRelay to further differentiate itself from the competition by providing a comprehensive, personalized support infrastructure. By demonstrating unparalleled levels of responsiveness, concern, and overall service, InfoRelay establishes a unique trusting relationship with each client, allowing InfoRelay to act as a 24x7x365 extension of its clients' IT departments. This partnership allows InfoRelay's clients to focus on their core businesses, rather than on the day-to-day concerns of hosting infrastructure. For more information, please visit http://www.inforelay.com, or call (703) 485-4600.
###