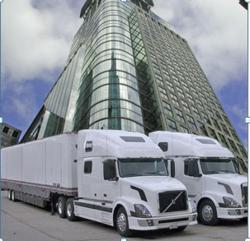 Los Angeles, CA (PRWEB) May 21, 2013
Los Angeles Commercial movers, a Downtown LA moving company, released a checklist for commercial moves in LA. The full checklist can be found on the company site, but clips are:
"If you are planning for a commercial move, you want to have a checklist ready. Movinggood.com provides a great list to follow.
Moving Business – Step 1
Have a planning meeting with key staff and assign duties.
Go over the floor plan of new space, take measurements of shelving, cubicles, desks, etc.
Begin to get moving quotes from commercial movers in your area.
If need be, hire business relocation consultant. Many commercial moving companies provide this service.
Make an appointment with your insurance agent and see what your policy covers when it comes to moving.
Give notice to the landlord.
Get together with contractors for any improvements to the new space – paint, new carpet, etc.
Contact your telecommunications carrier. Find out what the new phone numbers will be.
Moving Business – Step 2
Notify your clientele by email, by personal letter, and a notice posted at the current business location.
Order your new letterhead, business cards, flyers, advertisement notices by postcard and letter etc.
Touch base with key staff and consultants to nip any problems in the bud.
Arrange a Grand Opening event for the week after your move. Get with caterers, valet service, etc.
Hire a moving company.
Contact authorities and update your business permits, licenses and the like."
The Los Angeles movers provide free, non-binding moving estimates, and works with business owners on setting up a moving plan to relocate an office in the quickest and most efficient manner possible. They provide their own packing supplies, and can pack an entire commercial space. They can move electrical equipment, medical equipment, clothing racks, window displays, take down and put up cubicles, move filing cabinets, etc.
For more information, visit http://losangelescommercialmovers.com.