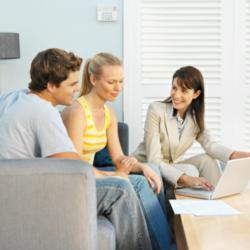 Los Angeles, CA (PRWEB) February 21, 2013
To avoid the legal mistakes many home sellers can make on their own, choosing an experienced, professional Los Angeles real estate agent is essential. In the increasingly hectic Los Angeles real estate market, with buyers jostling for sales, and property values rising, sellers may feel they can handle a home sale on their own, and avoid real estate commission fees. But these fees result in having a real estate advocate, capable of preventing costly, and legally binding mistakes in the selling process.
Los Angeles homes for sale are indeed in high demand, but this demand does not necessarily result in smooth sailing for sellers. A skilled Los Angeles realtor such as a team member from Red Blue Realty, can help sellers negotiate the potential minefield of legal errors that could arise when selling a property.
First of all, selling a home is time consuming and challenging. Fielding the emotional component involved in strangers critiquing a private property and handling their evaluation of the home's worth can be difficult for sellers to manage. With no professional expert to back up a seller, it's far too easy for a seller to become emotionally involved in selling a property, or to make a poor decision by accepting the buyer with the highest offer on the table without paying attention to other contractual elements of the offer.
Likewise, it's common for a seller to mishandle or simply ignore multiple offers, or back up offers. Having a Los Angeles real estate agent with selling experience to support the home seller will prevent a seller from setting an unrealistic price as well, and remove the difficulty in negotiating a price from the shoulders of the seller.
Some sales fall through because of the wording on an inspection clause, which allows a buyer to take back their offer if the home inspection performed left them dissatisfied with the property. This can be used against the seller over a minor repair issue or another technicality that sends a home back on the market at considerable time and expense for the seller. A real estate professional can help sellers avoid this type of situation, as well as preventing a seller from accepting an offer with little or no earnest money offered, or without verifying the ability of a buyer to actually close escrow
In short, utilizing the services of a Los Angeles real estate agent can mean the difference between a quick, efficient sale and on-going issues that prevent closing on the property. Agents will make sure that a seller provides a disclosure on the property to the buyer, and that the buyer signs off on the disclosure; that the seller does not neglect to exclude items - such as appliances - from the sale which the seller might prefer to keep. An agent will make sure that a seller considers asking a buyer to remove contingencies from the sales agreement, too.
From simple selling assistance such as making sure a seller has ample listing photos and has set a realistic price and time for the sale of a property, to negotiating more complex real estate waters such as contingencies and inspection clauses, having a Los Angeles real estate agent on the seller's side can mean the difference between an effective and smooth sale and choppy waters indeed.
Website: http://www.redbluerealty.com
Email: Contact(at)redbluerealty(dot)com
Phone Number: 1-(855) 66-RBREALTY or 1-(855) 667-2732