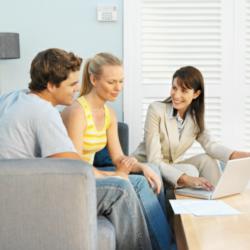 Los Angeles, Ca (PRWEB) April 26, 2013
The professionals at Red Blue Realty know that a listing agreement is an important legal contract, and one that a Los Angeles real estate agent pays close attention to writing. Sellers, too, should note that a listing agreement is a binding contract that shouldn't be entered into lightly. While buyers often don't sign a contract, sellers virtually always do. Paying attention to the details of the agreement is key for seller satisfaction.
Most realtors listing Los Angeles homes for sale use standard listing agreement forms, but everything on the forms can be open for negotiation.
Here are some tips to consider about the seller listing agreement.
Tip One: Terms of Agreement
Long or short? A longer term allows the agent to have more time to find a buyer. However, homes in the Los Angeles real estate market are selling swiftly, it's important not to commit to an agent for more than a few months. A seller can always extend a contract if satisfied with the agent's efforts and the home has not sold. Red Blue Realty's professionals know that proven effort is rewarded by sellers.
Tip Two: Commission Rates
Most are standard percentages. Many are 6% of the sales price, but some agents accept 5% and some will ask for 7%. While a lower rate saves money, a higher rate can provide more incentive for an agent to invest in the marketing of a home.
Tip Three: MLS Listings
The Multiple Listing Service is an online listing service that helps the agent market a home to a wide group of buyers. MLS data bases are accessible by both consumers and agents on the internet.
Tip Four: Open Houses
Do open houses work? Each individual Los Angeles real estate agent will have his or her own opinion about the process. In general, open houses allow a solid number of potential buyers to see the property at one time; however, some attract more "looky-loo" viewers than serious buyers. Agent open houses, that welcome real estate agents alone to get acquainted with the property, may be the best bet.
Tip Five: Lockbox Allowance
The lockbox is a small safe that holds the key to a home. It can be attached unnoticeably to a railing or door on the property, allowing access to the home by a realtor. This means that realtors can bring potential buyers onto the property whether or not the home owner or the home owner's selling agent is present. Concerned about strangers entering a home unattended? Then don't authorize the use of a lock box. Naturally, if a home is vacant and valuables have been removed, a lock box allows more people to see the property regardless of a homeowners own schedule, and more people means more offers and a higher selling price. A lockbox is an important consideration for a homeowner, and should be noted clearly in the listing agreement.