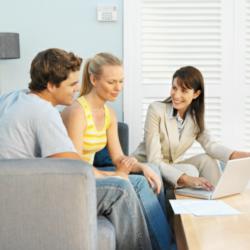 Los Angeles, CA (PRWEB) April 26, 2013
An experienced Los Angeles real estate agent such as a member of Red Blue Realty's staff is well aware that the situation sometimes arises when a buyer seeks assistance from the seller in regarding to "carrying back" a portion of a loan. The question is whether this is a viable idea for a seller.
Seller financing is most common in slow housing markets. Currently, Los Angeles real estate is a growing, fast-moving marketplace. However, seller financing can also assist with inducing buyers to select a particular property. And it can also serve as a good option for sellers who would prefer to receive payments over time rather than an aggregate sum in full.
Seek the advice of a skilled Los Angeles real estate agent, in order to decide if carrying back a loan amount is a viable option. These tips can help:
Tip One: Would a Banker Do It?
Careful assessment of the buyer's ability and willingness to pay his or her debts is key. It's important to verify a buyer's employment,
Be sure to get a credit report, copies of bank statements, and a copy of the loan application the buyer provided for the bank.
Tip Two: Written Contingency
A contract for purchase should include the amount, interest rate and the seller's term for financing. It should also include a statement that allows the seller to approve the buyer's finances before proceeding with the loan.
Tip Three: Call in the Experts
Before agreeing to a carry back on Los Angeles homes for sale, consult with an accountant and attorney. Lending money to someone purchasing a property affects income tax; interest earned on this loan is also taxable. The transaction should be handled as an "installment sale" that allows sellers to spread the capital gain on the transaction over the full term of the loan being carried back. Such documents should be drawn up by a professional.
Tip Four: Short Term
Seller-financed loans are rarely longer than five years. Some are simply short bridge loans, designed to cover a gap in financing until the buyer obtains financing or sells a prior residence or obtains long-term financing. Balloon payments are common too.
Tip Five: Collateral Considerations
The carry back loan should be tied to the property, so that as a lender, the seller will have the ability to foreclose and evict if the loan is defaulted upon. Be sure that the property has an appraised value equal to or more than the purchase amount, and be sure that the buyer offers a down payment of at least ten percent of the purchase price. A substantial down payment amount will also greatly reduce the chance that the buyer will walk away from the mortgage.
Tip Six: Service Providers
If paperwork and payments seem too difficult to handle, the seller can contract a loan servicing company or collection agency that will send payment notices, handle principal, interest and balance information on the loan, and prepare year end statements.
Website: http://www.RedBlueRealty.com
Email: Contact(at)redbluerealty(dot)com
Phone Number: 1-(855) 66-RBREALTY or 1-(855) 667-2732