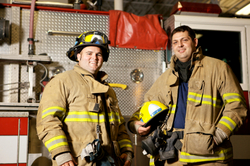 "We need to do more as a nation to encourage individuals to volunteer for their communities as emergency responders," said NVFC Director of Government Relations, Dave Finger.
Latham, NY (PRWEB) November 1, 2010
Penflex, Inc., a professional services firm located in upstate New York, is reporting progress in the battle to increase awareness of the Volunteer Emergency Services Recruitment and Retention Act (VESRRA – H.R. 1792/S. 3319). To ramp up these efforts Penflex is working with the National Volunteer Fire Council (NVFC) to issue action alerts and contact emergency services volunteers across the country spreading the message that this bill is vital to them and the millions of people that rely on volunteer firefighters and EMS workers.
The NVFC lists H.R. 1792/S. 3319 on its list of the most important legislation affecting volunteers.
"We're seeing some traction on this issue, people are starting to take notice and really pay attention," says Ed Holohan, President of Penflex, Inc. "We set out to increase awareness among volunteer firefighters and EMS workers along with the millions of people they serve because this important bill, which will simply fix technical federal law compliance problems with a pension-type volunteer incentive program called length of service award programs (LOSAP), has been languishing for five years. It's really a no-cost bill and with volunteer departments struggling to retain current volunteers, recruit members and replenish aging volunteer forces, we see this legislation as vitally important to communities across the country. People that rely on these services, and those that provide them, need to pick up the phone and call their Representatives in Congress to let them know this legislation needs to pass sooner rather than later."
LOSAP programs, in use in more than 33 states across the nation, are used by communities as a tool to recruit and retain volunteer firefighters and EMS workers. Most estimates of the tax savings these departments represent for communities in the US approach $40 billion dollars annually. The VESRRA bill, sponsored in the Senate by Susan Collins (R-ME) and cosponsored by Charles Schumer (D-NY) and Christopher Dodd (D-CT), would:

Allow plan sponsors to protect funds contributed into a LOSAP as if the LOSAP was an IRS approved pension plan. This protects the funds from creditors in case the sponsoring entity goes bankrupt and allows for portability of benefits earned by a volunteer.
Clarify, update and expand the confusing and out-dated provisions of the Internal Revenue Code regarding the taxation of the amounts paid to volunteers under these programs.
Allow private, non-profit volunteer emergency services agencies that operate based on the terms of a written agreement with a local unit of government to elect to have their LOSAP be considered "governmental" for the purposes of taxation. This would exempt them from various reporting requirements that are an administrative burden, particularly in smaller communities
Calls to Senator Schumer's office seeking comment on the delay in passage of this bill have not been returned.
"We need to do more as a nation to encourage individuals to volunteer for their communities as emergency responders," said NVFC Director of Government Relations, Dave Finger. "The beauty of H.R. 1792/S. 3319 is that it will bolster recruitment and retention by simplifying the manner in which LOSAP programs are taxed, making it easier for communities that choose to provide a LOSAP to do so. We aren't talking about cutting taxes or establishing a new federal program or anything else that would add to the federal deficit. Particularly in these difficult economic times when budgets at every level of government are tight, this is the type of common-sense legislation that members of Congress on both sides of the aisle can support."
Adds Holohan, "The message we're trying to spread, and we do have an article coming soon in the newsletter published by the Association of Towns of the State of New York, is really that people beyond volunteers need to be concerned about this legislation and should be proactive in trying to get it passed. So many communities across the country rely on these volunteers that helping them continue to recruit and retain firefighters and EMS workers is of vital importance. How many communities, in this economy, can afford to start a paid force? Right here in New York, in the city of Schenectady, we're seeing a community struggle to pay that kind of bill and what's worse for the community is now we're seeing these paid firefighters being laid off. What's of great concern, with reduction of paid forces, is the safety of the community."
To request more information on VESRRA contact Mr. Holohan directly by visiting http://www.penflexinc.com; or call 1.800.742.1409.
# # #