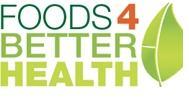 When you're trying to lose weight, people tell you 'Oh, don't eat this,' or 'Don't eat that,
Boston, MA (PRWEB) June 07, 2013
Foods4BetterHealth.com, a new food and nutrition web site that believes in using food to heal and prevent disease and illness and help you live a long, happy life, has launched a new healthy weight loss program, designed by its health experts, called the "You Can" diet.
The "You Can" diet features exclusive expert advice from weight loss professionals and the Foods4BetterHealth team of writers and researchers. Every week, the Foods4BetterHealth team will publish easy and simple tips to help readers lose weight—but instead of focusing on what you can't eat when you're on a diet, the "You Can" diet will focus on everything you can do.
"When you're trying to lose weight, people tell you 'Oh, don't eat this,' or 'Don't eat that,'" says Foods4BetterHealth.com editor Vicky Tobianah. "It can get very discouraging, which is something I noticed when I was trying to lose weight myself. So instead of focusing on the negative side, we want to show readers that there is still a lot you can do and eat when you want to lose weight."
The "You Can" diet fits Foods4BetterHealth's mission of helping people realize that the key to good health starts with what they eat. "Many people have a hard time losing weight because they think they have to eliminate everything that they enjoy," says Tobianah. "But that's not the case, which is what the 'You Can' diet hopes to show."
Since launching the diet, the Foods4BetterHealth experts have written about the best foods to snack on during the day, the drinks you can enjoy, the metabolism-boosting foods you should eat every day, and four easy, heart-healthy salad dressings.
"We're excited about this initiative and really glad to show our readers that losing weight doesn't have to be so difficult," says Adrian Newman, president of Doctors Health Press, the company behind Foods4BetterHealth.com. "At the end of the day, there are so many healthy foods that you can eat while you're trying to lose weight. It just takes a bit of creativity."
Foods4BetterHealth.com, created by Doctors Health Press, is a food news and health web site, informing readers about the latest food controversies, exclusive expert advice, and the health tips they need to ward off illness, prevent disease, and live a long, healthy life. For more information, visit http://www.foods4betterhealth.com.