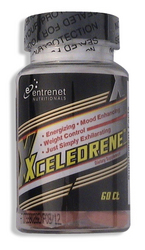 We blend herbal extracts to make the proprietary mixture found in our Xceledrene supplement
Cuddy, PA (PRWEB) February 14, 2008
The New Year's resolution season has come and gone but getting fit is still at the top of everyone's list. This year, U.S. residents are flocking to Xceledrene to give them a healthy leg up on their fitness resolutions, as well as provide them an added energy boost.
"We are receiving a large increase in orders from people who are looking to lose weight fast," said Brett Shelite, with DiaNutrition and Entrenet Nutritionals. "People are trying the product out for free and telling us about amazing energy and fast weight loss that they are receiving."
Xceledrene is a Thermogenic product that is a combination of unique ingredients that will safely promote weight loss and fat burning. Xceledrene offers takers amazing energy and appetite control. The secret is in Xceledrene's Thermo Rx technology.
Thermo Rx Technology is a blend of four plant extracts that are standardized and processed uniquely to achieve a thermogenic response unlike anything else in the market. The two primary compounds are acacia rigidula (a stimulant made from an evergreen primarily from Mexico with over 54 species in the family) and 2 - phenylethylamine HCL (found in chocolate that has a positive effect on mood, appetite and a sense of well being and is considered the cleanest stimulant ever researched).
Both are stimulants by nature, but their thermogenic properties are unparalleled by any known thermogenic agent. The two secondary ingredients are a special green tea extract and unique theobroma cocoa extract yielding specific bioavailable amines but are of a proprietary nature.
"We blend herbal extracts to make the proprietary mixture found in our Xceledrene supplement," Shelite said. "Buyers have told us that it is our unique mixture that has truly worked for their weight loss and energy needs."
Xceledrene is available online at DiaNutrition.com priced at a low $49.95 for up to a 60-day supply. For a limited time, DiaNutrition is offering a free trial supply of Xceledrene to residents of the United States who are seeking lose weight, have more energy and to make 2008 their healthiest year yet.
###