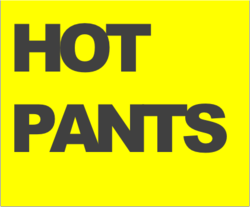 We have been so overwhelmed by the response
London, UK (PRWEB) June 21, 2011
The upcoming launch of Zaggora Hotpants has the company's fan page buzzing. Using only Twitter marketing since launching the website 2 weeks ago, the company has had over 23,000 visits and over 10,000 Facebook 'likes.' Over 1,000 women, eager to lose weight and reduce cellulite, have signed up to be brand ambassadors for Hotpants. On Saturday, the fan page went 'viral' registering over 500 'likes' in just an hour.
The official delivery of Zaggora Hotpants is scheduled for June 29th. Zaggora currently has 300 women signed up to write about their experiences on Zaggora's Facebook fan page, providing real life testimonials, or 'social proof,' for anyone interested in Hotpants.
Hotpants were specially designed by Dessi Bell in London after finding that there wasn't anything in the market to really help her attack cellulite and lose weight before her wedding. She researched materials and fabrics after realising that comfortable clothing that targeted the areas women care about such as bum, thighs and tums, was the way forward.
After 12 months of development she found that during Hotpants trials women lost weight as well, an average of 2 jean sizes in 2 weeks.
Speaking about the craze so far, Dessi says, "It's been such a fantastic response, we're quite overwhelmed. On some days, the team doesn't have time to do anything but respond to emails and tweets - women just seem to love the idea - we haven't even delivered any yet.
"Women everywhere want to lose weight and look good naked this summer. Wearing Zaggora Hotpants helps them use natural body heat to maximize workouts," says Dessi.
Specially designed with Celu‐Lite™ technology, Hotpants maker Zaggora says they work hard to reduce body fat and the visible appearance of cellulite by using natural body heat to increase perspiration by up to 80%.
Hotpants are available for media outlets to review.
###