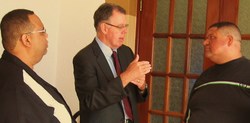 Genetics plays a major role in obesity. You can't change your genes, but you can change their expression
Miami, FL (PRWEB) April 16, 2009
It is easy to tout weight loss success after the fact, but Dr. Sears, bestselling author, research scientist, founder of MedWell Foods and expert on the hormonal factors leading to obesity, took on a far greater challenge. Six months ago Dr. Sears told NBC-TV news he would successfully help two of the heaviest men in Miami to lose significant amounts of weight and gain improved health.
NBC-TV news Channel 6 n Miami has tracked the progress of Miguel Amador and Pascal Jannini since they began the MedWell 1-2-3 program six months ago under the guidance of Dr. Sears, founder of MedWell Foods, and Dr. Jorge Suarez-Menendez, a Miami surgeon and a MedWell co-founder.
In the first six months, Miguel lost just over 100 pounds and Pascal 60 pounds with Dr. Sears new MedWell123.com foods.
Several NBC-TV News programs from New York and Connecticut to Miami and San Francisco reported about the progress of Miguel and Pascal on MedWell 1-2-3.
"Genetics plays a major role in obesity. You can't change your genes, but you can change their expression," Dr. Sears said.
The two men were able to lose weight of 100 pounds and 60 pounds in a half year with the help of Dr. Sears and his new MedWell 1-2-3 foods of pasta, bread, bagels, cookies and more.
The primary causes of obesity are low levels of the hormone PYY, which tells the brain to stop eating, coupled with a high sensitivity to the hormone insulin that traps incoming calories in the fat cells so that an individual is constantly hungry.
"It is not lack of willpower that causes obesity but a lack of hormonal control. MedWell offers a new generation of healthy comfort foods that can restore hormonal harmony between your diet and your genes," Dr. Sears said.
MedWell Foods was founded to re-establish hormonal balance. Using a breakthrough food technology to create foods people like to eat, such as breads, pastas, pizza, snacks and cookies, MedWell provides a unique solution to improve appetite suppression by naturally changing the levels of hormones that control hunger.
At the start of the program, Pascal Jannini was skeptical. "I have tried a bunch of diets and exercises before, and I think definitely MedWell Foods is my last hope," Jannini said at the time. Now six months later, he and his family are grateful for the first meaningful results he has ever achieved in his attempts to lose weight.
"By simply substituting the MedWell versions of the foods he likes to eat into his current diet, he has dramatically increased appetite suppression. If you aren't hungry, then cutting back on calories is much easier," Dr. Sears said.
After a lifetime trying to lose weight, Miguel Amador said he and his family are thrilled with the results of MedWell in just a half a year. "Your meals are already planned out for you, and you don't have to think about what you're going to cook," said Amador.
Dr. Suarez-Menendez said that MedWell is flexible and affordable and added, "MedWell offers a dietary solution based on cutting-edge hormonal control technology. The results on the MedWell 1-2-3 program are consistent, whether you want to lose 10 pounds or 200."
The unique products made by MedWell Foods can be found online at http://www.medwell123.com.
Dr. Barry Sears rose to international prominence with the publication of his landmark book, The Zone, a New York Times #1 bestseller and one of the top-selling 150 books of the past 15 years, according to USA Today. Dr. Sears has written 11 additional books about role of inflammation and the hormonal factors involved in weight gain that have sold more than 5 million copies and have been published in 22 different languages.
MedWell Foods offers a full line of healthy comfort foods to help people lose weight at http://www.medwell123.com.
# # #