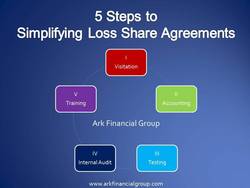 The 5 Steps to Simplifying FDIC Loss Share Agreements were designed to mirror the FDIC's Compliance Monitoring Plan.
Pompano Beach, FL (PRWEB) April 4, 2011
Acquiring Institutions of failed banks will benefit from the 5 Steps to Simplifying FDIC Loss Share Agreements, an economical, efficient and simple way of complying with the many requirements of Single Family and Non-Single Family Loss Share Agreements— without having to spend a million dollars on technology or hire and train a department of internal dedicated staff.
The team at Ark Financial Group is comprised of finance industry veterans and former FDIC Loss Share Contractors that have been helping Acquiring Institutions comply with Loss Share Agreements for over four years. In the beginning of 2010, the firm leveraged its insider knowledge, tools and ground-breaking strategies to develop one offering that simplifies Loss Sharing for everyone involved.
"The FDIC does provide support and guidance to Acquiring Institutions regarding the Loss Sharing Program, however, with several banks failing almost every week and a lot of other FDIC activity such as existing Loss Share monitoring and the issuing and oversight of Consent Orders, they have their hands pretty full. Plus, all of the guidance still doesn't provide an inside look at the auditing processes, tools and overall approach utilized to monitor Acquiring Institutions," said Vanessa Maynard, Director with Ark Financial Group.
"The 5 Steps to Simplifying FDIC Loss Share Agreements were designed to mirror the FDIC's Compliance Monitoring Plan. We created this approach to help our clients with all their Loss Share needs because of the set-backs they were facing and the questions they had that required rapid answers and solutions. They requested, we listened and responded," Maynard continued.
"Many Acquiring Institutions have spent a lot of money buying really useful software but still had numerous problems and questions. The software only got them so far. They needed a solution that encompassed much more than just technology; they needed experience, efficiency and ease in a transaction that's not-so-simple," Maynard explained.
When the Loss Sharing Program was first released, only a few Acquiring Institutions had to encounter the typical concerns that arise as part of entering into a Loss Share Agreement. Back then, the concerns were fewer in numbers and getting the attention, guidance and ongoing support they needed was easy. However, in today's economic environment, Acquiring Institutions are faced with much more difficult questions and much less support. Altogether, programs, products, regulations and even borrowers have changed significantly since Loss Share first came out. Now, it's more important than ever that these Institutions know exactly what they're getting into before entering into the transaction and seek the right support to appropriately manage Loss Share Assets.
The team at Ark Financial Group has provided support to some of the largest domestic and international banks, mortgage originators, servicers, and investors for over 15 years. Companies within the mortgage industry depend on Ark Financial Group's consulting services to stay abreast of industry best practices, ensure compliance and drive portfolio performance. For more information, visit http://www.arkfinancialgroup.com/Home.php