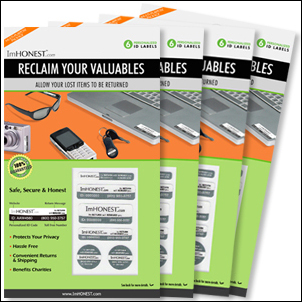 Offering customers the added convenience of a physical store presence nationwide makes it's easier than ever for shoppers to buy ImHONEST Personalized ID Labels for their existing valuables or to go with that new digital camera they buy from OfficeMax
Atlanta, GA (PRWEB) December 12, 2006
Infinite Values, Inc. today announced the availability of ImHONEST® lost and found labels at OfficeMax® stores nationwide. Infinite Values, Inc.'s brand http://www.ImHONEST.com , a non-traditional lost and found service, will be available in time for Christmas shoppers looking for a unique and practical gift to pair with electronics and portable items of value.
A study by Pointsec concluded that last year more than 85,000 phones and 21,000 PDAs and Pocket PCs were lost in Chicago taxis alone. Unlike conventional lost and found services, ImHONEST.com takes a proactive approach so that if an item is lost, it can be returned. The success of ImHONEST.com is based on people responding to a compelling "honesty message" displayed on the lost item's ID label. The Web site also features convenient online and offline reporting and return options that make it easy to get the item back to its owner. Finders can drop off an item at any of The UPS Store® locations nationwide or have an item picked up from their home or business. There is no cost for the finders. On the contrary, they receive the reward of having done a good deed, as well as a tangible gift from ImHONEST.com worth $20.
"Offering customers the added convenience of a physical store presence nationwide makes it's easier than ever for shoppers to buy ImHONEST Personalized ID Labels for their existing valuables or to go with that new digital camera they buy from OfficeMax," said Joël A. Núñez, president and founder of ImHONEST.com. "During this season of giving, the ImHONEST Multi-Purpose Package makes for a unique and affordable gift."
According to the Consumer Electronics Association, consumer electronics gifts will account for $21 billion in holiday spending this year. Topping the gift list of what consumers plan to buy are digital cameras, cellular phones, MP3 players, portable CD players, carrying cases and laptops -- all items that are easily lost or misplaced.
ImHONEST.com's Multi-Purpose Packages, available at OfficeMax through Infinite Values, Inc.'s national distributor Baumgarten's®, come in sets of six labels. The suggested retail price is $9.95 and includes one year of service. The package's five sizes of labels fit most items people carry with them, such as portable electronics, keys, sunglasses and access cards.
Visit http://www.imhonest.com to see a list of the best holiday gift items to protect with ImHONEST Personalized ID Labels. For the closest OfficeMax store location, visit http://www.officemax.com.
About ImHONEST.com
ImHONEST.com is a non-traditional lost and found service for items of value that rewards honesty and donates a portion of proceeds to not-for-profit organizations. Unlike traditional lost and found Web sites, ImHONEST.com helps people take a proactive approach by identifying and registering their valuables before they are lost and found. Finders of lost items can easily return items at any of The UPS Store® locations at no charge, and are rewarded for their honesty with $20 worth of ImHONEST.com Personalized ID Labels.
Media Contact:
Joël A. Núñez
(404) 704-0710 Ext. 719
ImHONEST is a registered trademark of Infinite Values, Inc. in the United States. Brands, products and services referenced herein are the trademarks or registered trademarks of their respective holders.
# # #