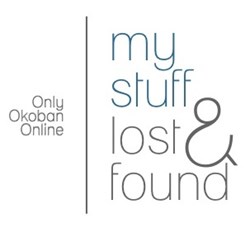 With Okoban, the finder of a lost laptop, phone, tablet, luggage, keys, camera or other valuables has the tools to notify the owner through Okoban the item being found and its recovery location, quickly, securely and at no cost, worldwide.
(PRWEB) December 05, 2012
My Stuff Lost and Found announces a new contest for the most heartwarming, uplifting and spectacular stories about good people finding and returning lost stuff to the rightful owners. The top stories will be highlighted in the new "Featured Finders" collection on the http://www.mystufflostandfound.com website. All published stories will be rewarded with a complimentary combo pack of Okoban's global lost and found service tracker tags and luggage tags. "Featured Finders" focuses on the human side of Okoban, the global lost and found service for life, with the stories behind what Okoban makes easier through goodwill and technology.
Anyone can participate. Story submissions or a "link" to a story, whether an Okoban story or otherwise, about a lost item finding its way back to its owner can be entered directly at http://www.mystufflostandfound.com/contact/ . All stories must be true, verifiable events with real people and should include photos or videos if available.
Click here to view the current crop of featured stories including "Saskatchewan Bird Finds Camera Lost Eight Months" and "NYC Taxi Driver Delivers Lost Gear to Filmmaker – Good People Doing the Right Thing" (a video).
Lost and found services have been around, in one form or another, since modern civilization began. But for all of these many centuries, what has always been missing was a dependable, safe, secure system for the finder of a valuable to reconnect the item to the owner quickly and easily. These Frequent Finder stories pay tribute to the concept behind Okoban's technology and goodwill – a free global lost and found service for life, giving good people the opportunity to do the right thing.
Now, with Okoban, the finder of a lost laptop, phone, tablet, electronics item, luggage, camera, passport, bike helmet, golf club or even a pair of glasses, a set of keys or other valuable has the tools to facilitate the Okoban system to connect with the owner of the found item and notify that owner, securely and privately, of the location for recovery. The found valuable is returned to the owner through the Okoban system which is a free lost and found service (i.e. no annual fees) that is easy and convenient and available anywhere in the world.
This is a huge breakthrough for lost and found services. Now, with Okoban, the lost valuable often finds the owner before the owner even realizes the item is lost.
"We've all lost valuable stuff, and we have also all found someone else's lost valuable stuff that we wished to return but had no way to connect the item with the owner" says Gordon Burns, CEO of My Stuff Lost and Found. "The joy of returning something to its rightful owner is equally as gratifying as having a total stranger return a valuable, especially in this Holiday Season. Now there is a solution. Okoban, where your lost valuable finds you" says Burns.
Okoban has been developed by Travel Sentry to help the global airline community return the great number of laptops and valuables left at security checkpoints. More than 12,000 laptops are left at airport security checkpoints every week in the US alone. That's nearly 2,000 per day. Unfortunately, less than one-third of these are returned because finding the owner is just too difficult. The remaining unclaimed laptops are sold as salvage.
Okoban is owned by Travel Sentry, the company that licenses the TSA accessible locks sold at tens of thousands of retail outlets, by over 400 luggage manufacturers worldwide and currently installed on 200 million luggage products everywhere.
Okoban is the only property registration system linked to the airline industry tracing system used by over 400 airline companies in over 2,200 airports worldwide and "frequent finders" such as TSA, airports, airlines, rail, maritime, coach, rental car and hotel companies. They are directly linked to the SITA/IATA World Tracer system. WorldTracer is the world's leading automated service for tracing lost and mishandled baggage and property.
My Stuff Lost and Found, founded in 2012, provides convenient worldwide online sales and service of Okoban's sturdy tracker tags for laptops, phones, tablets, passports, luggage, cameras, pets and other valuables. Mystufflostandfound.com is the online gateway to Okoban's tracking service for valuables and free global lost and found service for life. To find out how technology can now protect valuables, visit http://www.mystufflostandfound.com