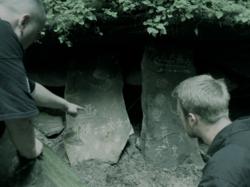 Join our archaeological team as we try to unearth what lies within.
WISCONSIN DELLS, Wis. (PRWEB) May 15, 2013
Summer of 2013 ushers in a new chapter in the ongoing mystery of the Lost Voyage, Wisconsin Dells' newest and scariest after-dark adventure, centered around the disappearance of a missing tour boat some 70 years ago. Chapter Two: Buried Secrets begins Memorial Day Weekend (May 24), with an all-new, 1½-hour adventure back into Cold Water Canyon, the site where the Badger tour boat mysteriously reappeared on dry land after vanishing into a green mist on July 4, 1943. Strange and scary events began happening when brave explorers ventured into the nearly pitch-black canyon looking for answers.
"We have seen some horrifying things, met some interesting characters and discovered a lot of artifacts and clues as Chapter One revealed some of the secrets hidden deep inside Cold Water Canyon," said Amanda McGowan, of Dells Boat Tours, which produces the interactive dramatic experience.
For the past two summers, boatloads of Lost Voyage adventurers have embarked on the terrifying excursion, travelling up the Wisconsin River by boat and then walking into the canyon on foot. Three teenagers, who first discovered the old tour boat, disappeared leaving only a cryptic video behind. What happened to them? And where has the Badger been for seven decades?
The unique attraction encourages daring investigators to seek out clues onsite and online. So far, they've discovered strange machinery, diary pages and military orders that reveal Cold Water Canyon was the home of Project Emerald, a secret World War II facility that was attempting to create invisibility. We learned the Badger was a test subject before it was a tour boat. But before more questions could be answered, gruesome creatures emerged from the dank, dark crevices of the canyon, sending the expedition participants fleeing for their lives.
"Scientists who led our expedition assure us that all the strange creatures were destroyed, but we cannot be certain," said McGowan. "Enter if you dare."
New clues left behind already tell us that Chapter Two holds a broader mystery. Photos taken by the first team of explorers have revealed strange hieroglyphs that suggest an ancient, advanced civilization once existed here. What do the startling symbols mean? Can a new batch of explorers make sense of other odd artifacts? Is there a connection between the 70-year–old mystery of the Badger and this ancient one? It's an all-new experience with new characters and new frights.
"The mystery will take us back into the shadowy recesses of Cold Water Canyon, deeper into the story of Lost Voyage and the depths of fear," said McGowan. "Join our archaeological team as we try to unearth what lies within."
Lost Voyage enthusiasts and newcomers can begin to delve into this puzzle online with a series of videos on the Lost Voyage YouTube channel. The most recent footage reveals what happened to the mysterious science team that ventured into the canyon ahead of the main Lost Voyage expedition. Watch as they encounter the canyon artifacts, the odd hieroglyphs and a horde of monstrous creatures.
Those who are new to Lost Voyage can easily get up to speed with a series of explanations on the Lost Voyage web site, [dellslostvoyage.com and on Facebook. Clues, photos and recordings related to Chapter One are outlined. All participants are encouraged to visit to download a clues sheet to help them solve the answers to this year's piece of the puzzle. Those who find the correct answers can enter to win prizes. The 2013 Grand Prize is a two-night getaway to Chula Vista Resort in Wisconsin Dells.
The entire mystery of Lost Voyage will be revealed in stages, over several seasons, encouraging people to make the nocturnal trek more than once. Developers hope this new kind of interactive experience builds a following of fans that will share their theories and thoughts online about the fate of the Lost Voyage.
Lost Voyage is slated to be offered nightly during Memorial Day weekend (May 24-27). Loading begins at 8:15 p.m. with departure at 8:30 p.m. A regular schedule of nightly trips runs from June 7 to Sunday, September 1 on Labor Day Weekend. A second tour will be added during peak summer based on demand. See online calendar or call for trip dates and departure times.
Expeditions begin at the Upper Dells Boat Tour main landing building located just over the bridge at 11 Broadway Road in downtown Wisconsin Dells and run about 1½ hours. Tickets are $22.54 for adults and $16.90 for students ages 11 and under. Due to some of its ominous themes, Lost Voyage is geared toward older children and adults. The experience is not recommended for kids age 10 and younger. Parental discretion is advised. Reservations are recommended and can be made by calling (608) 254-8555.
Lost Voyage is a presentation of Dells Boat Tours, one of Wisconsin Dells most historic and long running attractions with more than 150 years of operation. For more information about Lost Voyage, please call (608) 254-8555 or visit dellslostvoyage.com.